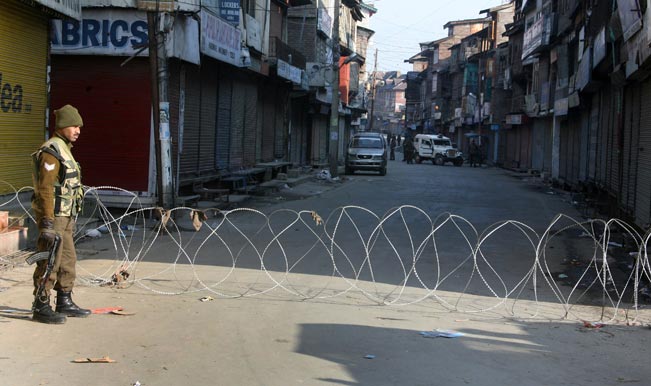 Srinagar, July 17 : Separatist leader Syed Ali Shah Geelani has ordered to observe a complete shutdown on Thursday in protest of the road mishap that took place yesterday and also against the Israeli aggression in Gaza. Local resident of Kashmir, Irfan Khan said, "Army force hit our car yesterday. There were six guys in a car who were attacked, stones were thrown at them and afterwards they were beaten by the officials as well. In protest of the same, whole Kashmir will remain closed and ceased today."
"In Palestine, kids are being killed, women are being raped and their honor is being snatched. What kind of justice is it? Whole Kashmir will remain closed," he added. A complete shutdown is being observed across the Kashmir valley against Israeli aggression in Gaza and to mourn the tragic deaths in the HMT incident yesterday. The incident claimed 6 lives when an army vehicle hits passenger vehicle. The incident happened on the Srinagar-Muzaffarabad Road near the Hokersar wetland reserve, about 10 km from Srinagar, reports The Hindu.
Four of the six passengers died on the spot, while the other two succumbed to their injuries in a hospital. Shortly after the accident, clashes broke out between local residents and army personnel. There were also reports of stone pelting. Army soldiers fired in the air to disperse the protesting civilians, and the situation was only brought under control by the state police. The shutdown call was given by Hardliner Kashmiri Separatist leader Syed Ali Shah Geelani . All shops, business establishments' schools, colleges and government offices are closed and the public transport is off from the roads.
Geelani has also called for the peaceful protest demonstration on July 18, Friday, against the Israeli aggression in Gaza. In order to stop violent protests, the authorities have deployed large number of Police and CRPF jawans at vital places.