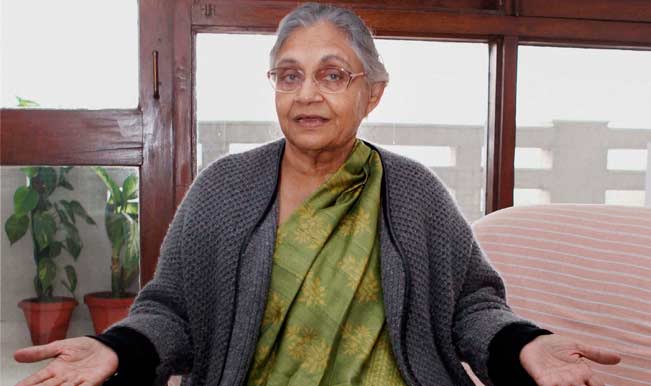 New Delhi, Feb 17: "My dream of Delhi has gone for a toss," Sheila Dikshit said today, two months after the three- term Chief Minister of Delhi was ousted from power by AAP's Arvind Kejriwal whom she accused of indulging in a "witch hunt" against her.
The 75-year-old Congress leader has just moved to a modest private apartment she has rented in the heart of the capital in sharp contrast to the sprawling government bungalow that was her home for about a decade. She now gets time to watch movies and is planning to work on interiors of the apartment herself.
Dikshit is careful with her words but her bitterness at the rout of her party and her own defeat comes through clearly. She recalls her achievements in terms of power, education, roads and hospitals, pointing out that the pass percentage in the government school was about 97 per cent, highest in the country.
"My dream of Delhi has gone for a toss already," she says after accusing Kejriwal of promising the impossible to win votes. Aam Aadmi Party had made promises of free water, cheap electricity, housing, jobs only to "backtrack from them".
Dikshit accused the AAP government, which was in power for just 49 days, of "witch hunting" by filing cases against her. Kejriwal had ordered Anti-Corruption Bureau of Delhi government to file FIR into the alleged corruption in the street light project of the 2010 Commonwealth Games in which CAG had indicted Dikshit. "I have done nothing wrong. It is witch hunting," she said.
On another case pertaining to allegations of her misusing the public funds ahead of 2008 Assembly polls, she said, "The FIR was filed following BJP leader Vijender Gupta's complaint which has already been decided by the President of India, who said there is no case" since she was a chief minister. "Now, they (AAP) have brought it from chief minister to an individual" thereby forcing her to defend herself, Dikshit said, expressing her anger over AAP's move.
The AAP government on Friday had moved the Delhi High Court to withdraw the appeal of previous Congress dispensation against a lower court order to register an FIR against Dikshit in the case. Severely critical of Kejriwal, Dikshit refused to give her opinion about the AAP leader saying it "may be too strong".
On whether AAP will make an impact in the Lok Sabha polls, she said Kejriwal will definitely try to replicate the "Delhi experiment" in other parts of the country but the question will be whether the country was looking for "anarchy" or was striving to ensure good governance and development.
"I am sure 99.99 per cent Indians would say that they would like to have a stable government. They would like to have a government that follows Constitution and rule of law," she said, adding "the AAP think they are the ones who are honest and rest are dishonest." The senior Congress leader said the party would "fight for a come back" when the assembly polls take place in the city.
She, however, refused to hazard a guess on when the assembly polls will be held. Asked what was the reason for the severe drubbing Congress suffered in the Delhi assembly polls, Dikshit said perhaps people in the national capital wanted some kind of change. "Perhaps there was a sense of wanting change. Then when they wanted change, they did not think of what the change could mean," she said while identifying price rise and performance of UPA government as other possible reasons for the defeat.
Asked about whether she will contest the Lok Sabha polls, she refused to give a direct reply but dropped hints of her willingness to fight the assembly election whenever it takes place. "I have not thought about it at all. I have no final decision. It is just about two or three months election took place. I am not interested in Lok Sabha polls," Dikshit said, adding the party has asked her to campaign for Lok Sabha polls. On where she like to see self in the next few years, she said, "If I get an opportunity, I will be (active politically). I never shied away from an opportunity."
Asked about her life post-Delhi Assembly polls, the former chief minister said she has been spending times with friends, watching movies and doing things of her choice. "I am getting more time to watch movies. For the past two years, I haven't had the time at all. I look after myself. I do so many things. I have hundreds of friends. I catch up with them and do things I like," she said. Dikshit, whose government in 2002 had privatised power distribution in Delhi, said electricity tariff in the city was lowest in the country and that Kejriwal made an issue with discoms "out of nothing". PTI