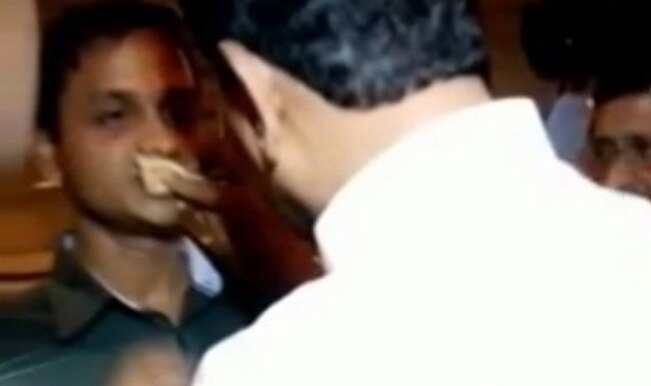 After an uproar in the Lok Sabha over the Shiv Sena force-feeding row, the party's member of parliament (MP) Rajan Vichare is ready to apologise for forcing a Muslim staffer of Maharashtra Sadan in New Delhi to eat during his Ramazan fast last week. Vichare said that he had done nothing wrong, as he did not know the religion of Arshad Zubair who was forced to break his fast. The Shiv Sena maintains that the Congress party has deliberately given the entire incident a religious angle.
A video of the incident also went viral today, showing how 11 to 15 Shiv Sena MPs forced a Muslim catering supervisor to break his Ramazan fast. The incident took place when the group objected to the quality of food being served at the Sadan. The catering service, being operated by the Indian Railways' IRCTC, suspended services after the protests.
Zee News reports that IRCTC complained in writing to the Maharashtra Resident Commissioner, saying Arshad Zubair was "deeply pained and hurt… as religious sentiments are attached". The Commissioner offered his apologies.
The Maharashtra government has vowed to take an appropriate action.
Vichare meanwhile offered an expalantion to the media. He said, "We were protesting the bad quality food we were getting at the Sadan. We should get good quality food. But it is not so… we were given half cooked vegetables and chapatis that were difficult to even break into two pieces. We did not do anything on purpose."