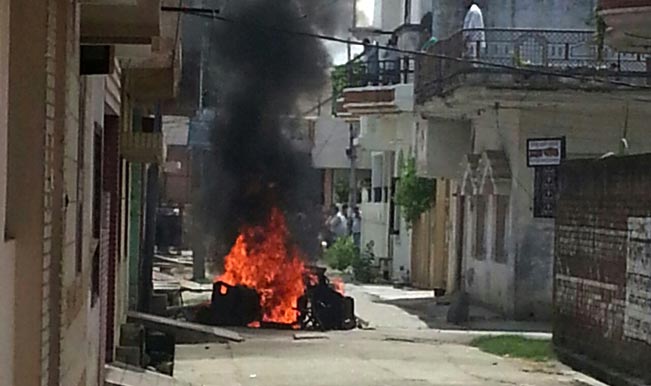 Jammu (Jammu and Kashmir), July 27 : Condemning violence, Sikh protesters today took to streets here, terming the clashes in Saharanpur as a conspiracy against the minorities. Protesters burned the tyres on the street leading to blockade of the road against the violence that erupted in Saharanpur in Uttar Pradesh on Saturday when two groups clashed over a disputed land adjoining a Sikh temple.
A Sikh protester Sudershan Singh Wazir termed the violence as a conspiracy against the minorities. "The incident that took place in Saharanpur has been well planned. This is a conspiracy against the minorities to divide them. Uttar Pradesh government and people who think that India is land of only Hindus have fuelled this conspiracy. I appeal to people to stay united at the time of the crisis," he said.
Rioting began when a group of people gathered outside the gurdwara and started pelting stones. The communities, who clashed over construction on a disputed plot, fought with firearms, swords and stones and torched shops and vehicles.