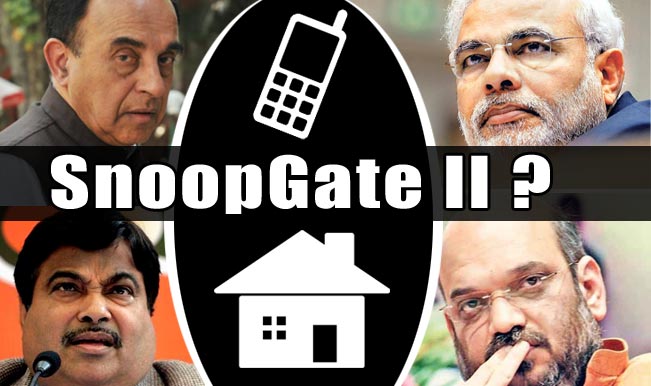 The ruling Bharatiya Janata Party (BJP) government found itself embroiled in yet another controversy, this time involving Union Minster of Transport Nitin Gadkari. The former BJP chief has denied media reports of snooping at his residence. The opposition parties in the Parliament stressed on conducting a discussion on the same, whereas Home Minister Rajnath Singh cleared the government's stand on the controversy stating the media reports as 'unfounded and untrue'. The Upper House and the Lower House of Parliament were adjourned after the opposition parties created a ruckus.
The Transport Minister Nitin Gadkari has himself denied all the allegations of his residential premises being snooped upon. Gadkari said that the first reports were of Delhi's house being snooped and now Mumbai. The media reports are completely false and baseless, says he.
Earlier in the Rajya Sabha, Janata Dal – United (JD-U) leader KC Tyagi moved a notice for the suspension of Question Hour so as to have a discussion on the issue of Gadkari's snoopgate. The notice for discussion after suspending the Question Hour is under Rule No. 193. The move was backed by the belittled Indian National Congress (INC) party and its former allies Samajwadi Party, and Nationalist Congress Party (NCP).
Earlier in the Lok Sabha, the Congress had served a notice to Lok Sabha speaker Sumitra Mahajan for the suspension of the discussion on the alleged Snoopgate. The Congress-led opposition demanded a probe into the bugging controversy, as it posed to be a dubious matter.
Matters escalated when Congress spokesperson Shaktisinh Gohil drew parallels with the Snoopgate controversy in Gujarat, when Prime Minister Narendra Modi was the chief minister of the state and Amit Shah the home minister. Gohil said, "Earlier these snooping incidents used to happen in Gujarat, but now it has reached New Delhi and Mumbai. Lagta hai ab Dilli walo ke snopping ke din aa gaye hai."
Taking the Congress party head-on, senior BJP leader Dr Subramanian Swamy said, "The bugging episode happened during the UPA II period last year in October. The Congress party has walked into a trap; if they continue ruckus in the Parliament, they'll have to answer and if they're silent, trouble will loom large over the party."
Is it another move by the Congress to malign the harmony in the BJP? Or to disturb the RSS-BJP relationship? In what seems another pothole, the BJP-led NDA government has managed to drag itself into another controversy after the issues of the HRD Ministry, Hindi language usage, Sania Mirza selection as Telangana brand ambassador, Shiv Sena force-feeding row and now the Snoopgate II.