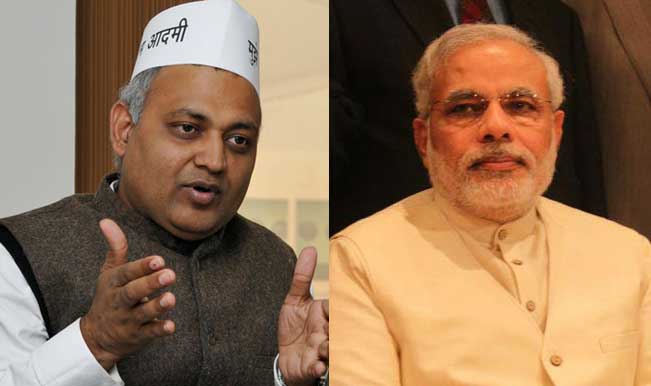 Delhi Law Minister Somnath Bharti once again courted controversy for his loose remarks in which he accused the media of being bought off by BJP's prime ministerial candidate Narendra Modi – and then retracted. "How much have you been paid by Modiji," Bharti answered when faced a volley of questions over why he was not appearing before the Delhi Commission for Women. The minister, however, retracted his statement later, saying: "I did not mean that. I apologise if the remarks have hurt anyone." Bharti was summoned by the Delhi Commission For Women (DCW) for leading a vigilante group that raided some homes of Ugandan women in south Delhi. (Read: Somnath Bharti – the Dark Knight Delhi needs?)
Earlier, Law Minister Somnath Bharti, who courted controversy over his vigilante action against an alleged sex-and-drugs ring, said Saturday that the charges were false, adding that Delhi Commission for Women's move against him was a "conspiracy to defame" him and was "politically motivated". The Aam Aadmi Party (AAP), backing the minister, also said that the DCW chief had political intentions and that it strongly disapproved the "politicisation" of the office. Bharti Friday failed to appear before the women's panel probing his action after which the commission said it would report the matter to Lt. Governor Najeeb Jung. An argument also broke out between the DCW members and the minister's lawyer representative.
The DCW is probing his action against an alleged sex-and-drugs ring involving African women. The law minister along with Aam Aadmi Party (AAP) volunteers Jan 16 raided some homes of African nationals in a south Delhi area for allegedly running a "sex and drug racket". The minister said he took the action following representations made by the Resident Welfare Association.
"Barkha Singh (of the DCW) is a member of the Congress and acting against me for a political motive," Bharti said. "All allegations against me are false. It's a conspiracy to defame me," the law minister told reporters. He added: "Its absolutely wrong and pathetic. Everything is wrong." Defending the minister, the AAP said in a statement: "The AAP strongly disapproves of the politicisation of the office of DCW by its chairperson. The attempts by the DCW chairperson, who is a former MLA of the Congress party, to create a controversy on the issue clearly shows her political intentions."
"It appears that the DCW chairperson acted on a well thought out plan of browbeating the lawyers representing Bharti in order to divert attention from the real issues faced by the residents of Khirki Extension," the statement said. The party said they too wanted justice to be delivered as the women from the area where Bharti conducted raid submitted their grievances before the DCW. The party clarified Bharti's position and further said: "Somnath Bharti, who also holds the tourism portfolio, was to attend an official engagement of the tourism department at 3 p.m., which was to be followed by a function organized by the Lt Governor of Delhi."
"Both the programmes were scheduled in advance and therefore Bharti, through his lawyers, wanted to inform the DCW that he will appear before the commission at a later date." The party said that summons by the DCW were sent in wrong address earlier. Chief Minister Arvind Kejriwal defended Bharti and also held a sit-in in the heart of Delhi for over 30 hours demanding action against those policemen who did not heed his minister. Kejriwal ended his protest after Jung appealed to him and also sent the two policemen on leave. IANS