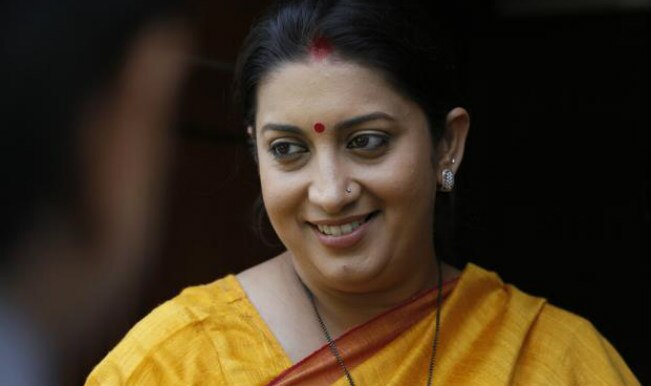 Bhopal, June 27 : Human Resource Development (HRD) Minister Smriti Irani here today broke her silence over the Delhi University crisis, saying that she respects the autonomy of institutions.
"I respect autonomy of institutions. However, I'm reminded that autonomous institutions were created to serve the people of the nation. My appeal is this, that within the ambit of the law, this is the time for statesmanship which will lead to a resolution. One should not sacrifice the interest of our students at the altar of prestige," said Irani.
Earlier today, she had appealed to the media not to compel her to breach constitutional propriety, as it was not proper for her to speak on the issue. Meanwhile, the Delhi University Teachers' Association (DUTA) continued to protest against Vice Chancellor Dinesh Singh, demanding his immediate resignation.
DUTA president Nandita Narayan said, "The Four Year Undergraduate Programme (FYUP) must be rolled back completely, or we will continue with our protest." Former DUTA president Amardeep Sharma added, "We want that the VC should either resign himself or should be sacked from his position. The illegal FYUP course structure cannot be implemented on the three year programme. We want the admission of new students to start on the basis of 2012 cut off list."
The Delhi University has reportedly rolled back the Four Year Undergraduate Programme (FYUP) after the University Grants Commission (UGC) asked it to begin admissions under the three year format. According to reports, the UGC has asked DU to begin admissions immediately and also demanded a complete rollback of the controversial FYUP.
The decision has come after days of standoff between DU and the UGC over the Four Year Programme which had put a halt to admissions. The deadlock has led to hunger strikes and vociferous protests by students as well as Delhi University Teachers' Association asking for the scrapping of FYUP and the Vice Chancellor Dinesh Singh's resignation.