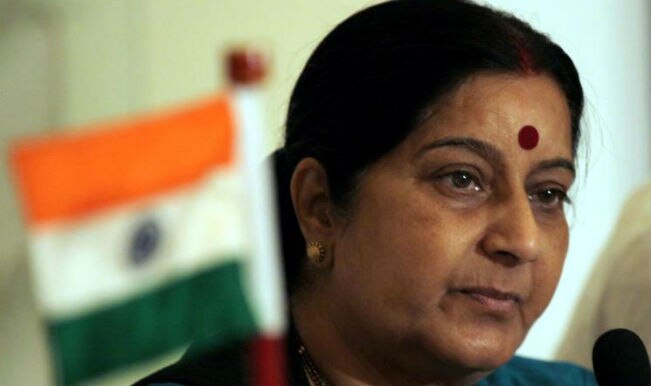 Kathmandu (Nepal), July 26 : Visiting External Affairs Minister, Swaraj today met with the top political leadership of Nepal during her official trip . Swaraj held parleys with Nepal's President and its Prime Minister, Ram Baran Yadav and Sushil Koiral arespectively. She earlier met Pashupati Shumsher Rana, the Chairman of the Rastriya Prajatantra Party (RPP) upon her arrival in Kathmandu on Friday, Swaraj started parleys with leaders of other political parties since early morning today.
She met the Chairman of Constituent Assembly, Subas Nembang, at Singha Dubar, while UCPN (Maoist) Chairman Pushpa Kamal Dahal called on her at the CA Hall in New Baneshwor. She later held a group meeting with leaders from different Madhesi-centric political parties. The meeting was attended by the leaders of the Madhesi Janadhikar Forum (Ganatantrik), Tarai Madhes Loktantrik Party, Nepal Sadhbhawana Party, Sanghiya Samajwadi Party-Nepal, Sanghiya Sadhbhawana Party, Madhesi Janadhikar Forum (Loktantrik), Madhesi Janadhikar Forum-Nepal among others.
Summing up Swaraj's meeting with political leadership of Nepal, Ministry of External Affairs (MEA) spokesperson , Syed Akbaruddin said: "She ( Sushma Swaraj) had a productive discussion this morning. She met the president of Nepal, she also called on the speaker of the parliament and met the leader of the opposition. In general, if I have to encapsulate the views there is a lot of excitement in Nepal about Indian intention to re-engage and re-invigorate the relationship. They are all looking forward to the Prime Minister's forthcoming visit. All feel that this is a historic opportunity to move to the next level in terms of our engagements with each other."
Swaraj is here to attend the third meeting of the Nepal-India Joint Commission, which is being held after 23 years. She has already held talks with her Nepalese counterpart, Mahendra Bahadur Pandey to boost ties between the two nations. Swaraj's trip is also to prepare the ground for a visit next month by Prime Minister Narendra Modi to Nepal.