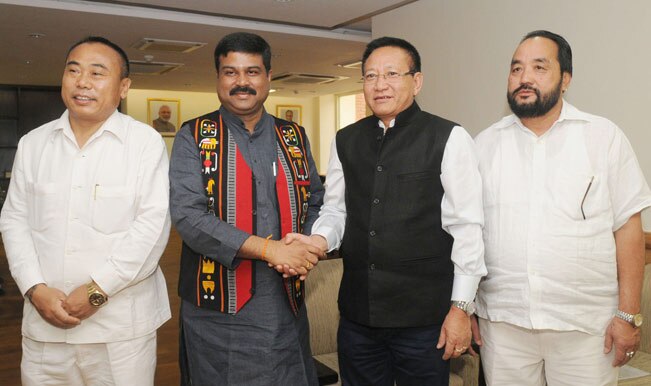 Kohima, Jul 22 : Nagaland Chief Minister T R Zeliang today hoped that the BJP-led NDA government at the Centre will display the required political will and courage to resolve the pending Naga political issue and fulfill the long felt desire of the Naga people for peace in the state. "DAN-III government in Nagaland continues to give the highest priority to peaceful resolution of the more than six decades old Naga political issue," Zeliang said in his maiden Budget speech delivered on the floor of the state Assembly.
"Towards this end, we continue to stand committed to play the role of facilitator in the peace process, and to pave way for any alternative arrangement that may be necessitated by such a peaceful resolution of the Naga people issue," he said. He maintained that the Political Affairs Committee of Democratic Alliance of Nagaland (DAN-III) has also requested the Assembly Speaker to reconstitute the 'Joint Legislators Forum' on Naga political issue, so that the members of this House, who truly represent the voice of the people, can collectively play a more meaningful role in facilitating the peace process, irrespective of their political affiliations.
He also placed on record the appreciation of the government for the constructive roles being played by the various Naga tribal bodies, the churches, the NGOs and civil societies in maintaining a peaceful atmosphere in the state. He specially acknowledged "the Forum for Naga Reconciliation (FNR) for their tireless efforts to unite the different nationalist groups and to maintain peace amongst themselves and in the society at large.