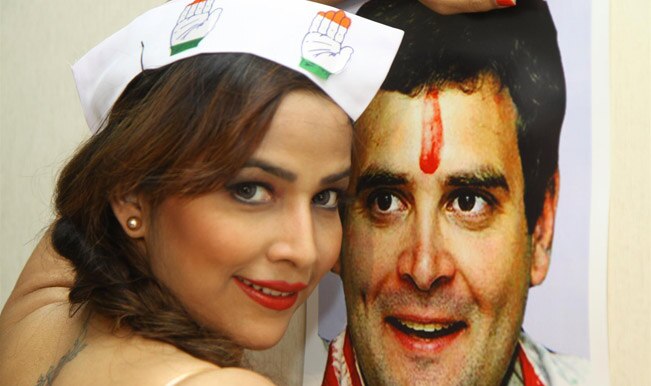 Stripping for votes seems to be the new trend. Close on the heels of Meghna Patel stripping to show her support for Gujarat Chief Minister and BJP prime ministerial candidate Narendra Modi, it is Congress vice president Rahul Gandhi's turn to get the strip support in form of  Tanisha Singh. The small time actor has taped a picture of Rahul Gandhi to cover her frontal assets.
Meghna Patel took to lotus flowers to cover up the important bits wearing nothing but the flora showing the rest of her uncovered body. The Lotus is also the election symbol of BJP.
Ideally, Tanisha Singh should have had a couple of hands covering her up but she took to a poster of Rahul Gandhi taped to her front with the top of the tape having small hands like the Congress election symbol.
With the Indian stripping pioneer, Poonam Pandey, starting the trend of stripping to show their support for the Indian cricket team for the World Cup, the simple yet 'effective technique' of letting the clothes drop and party symbols or placards covering their body is going to stay this election year.
Will this open show of support do any wonders to the political parties? Who do you think is the next politician who will get the strip support? Do let us know in the comments section below.