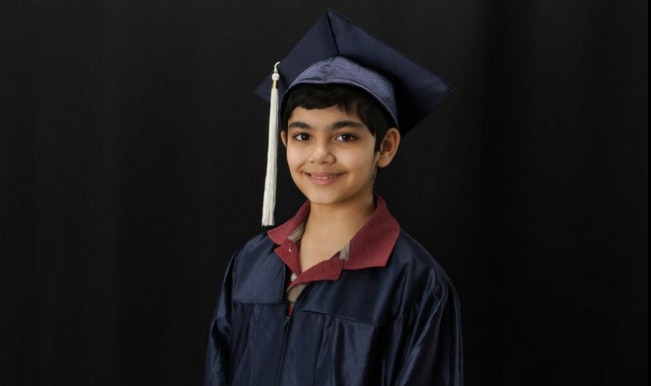 Indians are truly a different gene; they display their talents usually everywhere they are. Latest to join the list of Indians keeping the flag flying high is Tanishq Abraham. All of 10 years, Indian-origin Abraham, a native of Sacramento in California, received his high school diploma.
Abraham received his Diploma at a private ceremony at California Auto Museum after passing a state exam in March which certified that he had the appropriate academic standards to receive the Diploma.
This little genius was home-schooled from the age of seven after leaving his public school. He was the youngest America to be admitted to the high-IQ society Mensa at the age of four. He had volunteered for an online citizen's science project called Zooniverse where he scanned hundreds of images of NASA and helped to find two Supernovae (stellar explosion that briefly outshines an entire galaxy, radiating as much energy as the Sun is expected to emit over its entire life span), an exoplanet and a solar storm in 2011. His findings were confirmed by other volunteers. He did similar identification projects with MoonZoo and MoonMappers and presented his results at the NASA Lunar Science Conference 2012.
Taji Abraham, mother of Tanishq who is a trained veterinarian said, "He was pretty much self-taught." She would at times help him out with biology and chemistry and her husband, Bijou who works for a robotics firm used to help him with calculus and trigonometry. She also used to take an astronomy class with him at the American River College in which the son used to help the mother in understanding the subject better.
She said, "I'm probably one of the luckiest mothers, to have a 7-year-old as my classmate." After obtaining the Diploma, Tanishq is now working on his associate degree from American River College before proceeding next year to the University of California at Davis.
Tanishq in an interview following his graduation ceremony said, "My ultimate goal would be science, like scientist or doctor, but I also want to be the President too."
When people with Indian origin become the CEOs of top multinational companies, celebrations kick start in their Indian homes, with Satya Nadella being the latest in the list after being named to head software major Microsoft.