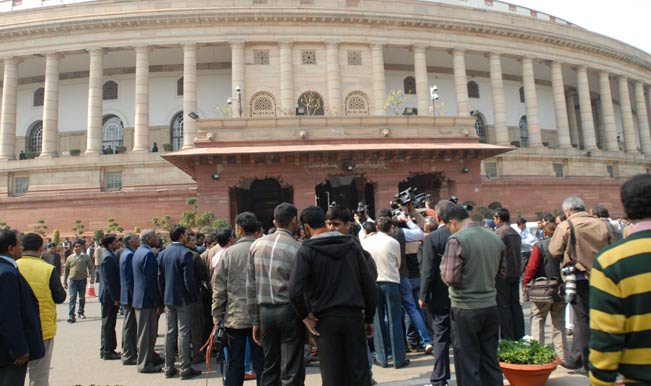 New Delhi, Feb 13: Seventeen Lok Sabha MPs were Thursday suspended for five days for taking part in protests that turned violent when the Telangana bill was introduced in parliament.
One of the MPs told the media that Speaker Meira Kumar took the action following unprecedented disturbances in the Lok Sabha when a member from Andhra Pradesh used pepper spray.
The suspended MPs are from the Congress, the Telugu Desam Party (TDP), the YSR Congress and those expelled from the Congress earlier this week.
They are Anantha Venkatarami Reddy, S.P.Y. Reddy, Magunta Sreenivasulu Reddy, Suresh Kumar Shetkar, K.R.G. Reddy and Gutha Sukender Reddy (all Congress), Nimmala Krishtappa, Modugula Venugopala Reddy, Konakalla Naryana Rao and Niramalli Sivaprasad (all TPD) and Y.S. Jagan Mohan Reddy and M. Rajamohan Reddy (YSR Congress).
Meira Kumar also suspended five of the MPs expelled by the Congress earlier this week. They are: V. Aruna Kumar, L. Rajagopal, R.S. Rao, A. Sai Prathap and Sabbam Hari.
IANS