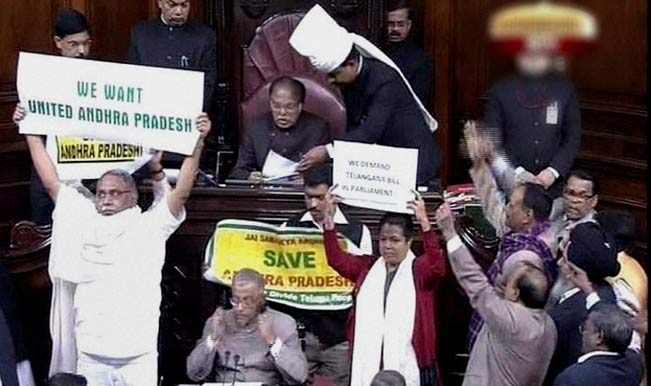 New Delhi, Feb 20: The Rajya Sabha is set to take up the Telangana statehood bill after an agreement was reached between the ruling and opposition parties, say Congress and BJP sources.
The BJP is set to move amendments, seeking a financial package for the residual state of Seemandhra, say sources.
Prime Minister Manmohan Singh is likely to adress the upper house and assure financial assistance to Seemandhra, as the Adnhra and Rayalseema regions are together called and would form the residual state. The agreement was reached after hectic discussions and a series of meetings since Wednesday.
The upper house, meanwhile, saw several adjournments, first coming soon after it met at 11 a.m. The house was adjourned till noon, then till 12.30 and finally till 2 p.m. amid protests over Telangana and other issues.
Members from the Samajwadi Party and the Bahujan Samaj Party protested loudly, demanding inclusion of 17 backward castes in the Scheduled Castes list. Members from Tamil Nadu demanded action against killing of Tamil fishermen by the Sri Lankan Navy. Deputy Chairman P.J. Kurien told the members they can move a calling attention motion on the issue of Tamil fishermen. IANS