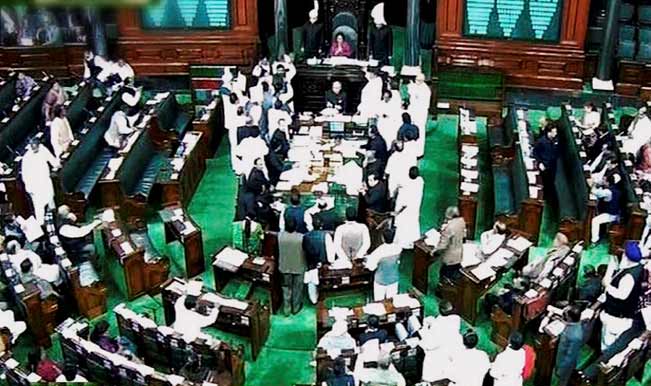 New Delhi, Feb 7: Parliament was once against disrupted over the issue of Telangana's formation, with both houses facing several adjournments.
Three no-confidence motions were admitted in the Lok Sabha, including one from a Congress member from Andhra Pradesh, opposing the proposed formation of Telangana. In the Lok Sabha, the question hour was lost to protests as members from Andhra Pradesh who are opposed to the division of the state, raised slogans and disrupted the proceedings.
With similar scenes prevailing when the house re-assembled at 12 noon, Speaker Meira Kumar adjourned the house for the day. Three parliamentarians from Andhra Pradesh, meanwhile, served no-confidence notices in the Lok Sabha against the Manmohan Singh government.
Harsha Kumar of the Congress, M. Venugopal Reddy of the Telugu Desam Party and M. Rajamohan Reddy of the YSR-Congress served separate notice to test the government's strength in the house.
All three are opposed to the creation of Telangana. Similar notices were served Thursday, but could not be taken up amid the din that led to the adjournment of the house for the day.
Similar scenes were witnessed in the Rajya Sabha where TDP members C.M. Ramesh and Y.S. Choudhary trooped near the chairman's podium, raising slogans and flashing placards to "save Andhra Pradesh".
Chairman M. Hamid Ansari said disruptions in the house would now on be reflected in the record of proceedings. "For several days now, we have been in a situation where we have been forced to witness deviations of the decorum of the house when members rush into the well," Ansari said. "I wish to inform the members that this will now be reflected precisely in the proceedings of the house."
However, as protest continued, the house was adjourned first till 12 noon, and then till 2.30 p.m. before being finally adjourned for the day. AIADMK members too created a ruckus in both houses over the issue of Tamil Nadu fishermen being arrested by the Sri Lankan Navy.
The upper house, however, saw some business being taken up when Minister for Social Justice and Empowerment Mallikarjun Kharge introduced the Rights of Persons with Disabilities Bill, 2014, amid noisy scenes. Deputy Chairman P.J. Kurien said: "The bill has only been introduced. The chairman will consider sending it to the Standing Committee." IANS