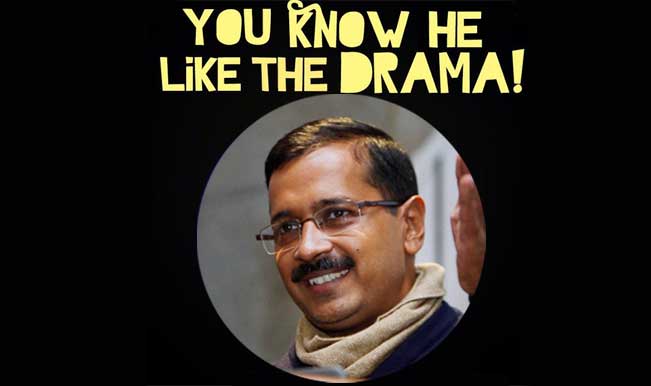 Indian politics or for that matter world politics is full of drama. Before the arrival of Aam Aadmi Party- the Arvind Kejriwal led drama group, Indian politics was like the Saas Bahu serials – there was no other option. Every entertainment channel worth their TRPs had them and they are still around. The two main political parties took turns to play Saas and Bahu and the regional parties played the role of extended family trouble makers. Indian audience were kind of going along waiting for the next big thing. It did not come from either of these two but in the form of Mr Arvind Kejriwal.
Now, here was a show that people had never seen before. This guy and his supporters had a script which made people take notice of the new kid on the block. They were doing everything to show the world they meant business. And boy, what a show it was. The two parties had no clue what had hit them when the Delhi Assembly elections started coming in. The Congress paid the price for siding with scamsters and turning a blind eye and deaf ear to what the Aam Aadmi was expecting from the government.
Bored with the two players, people also believed they had the perfect alternative in Arvind Kejriwal and his Aam Aadmi Party. Kejriwal in turn promised the moon if his party was voted to power. Fed up with corruption, apathy and in their over enthusiasm to give chance to the new entrant, people sent not 1 or 2 but 28 Aam Aadmi's to Delhi Assembly. Result? A hung assembly and that's when the Kejriwal drama begins. First no government, swearing over his kids etc etc and doing just the opposite because 'this is what the people want'. By that logic should we not made Sunny Leone as our national ambassador cause she topped the Google search term in  2013?
Now when you look back it all seemed like a perfect plan. Storming the national scene, populist promises and decisions and going after big names without even having the jurisdiction to take action against them. In all the 49 days that AAP ruled Delhi it was more interested in creating noise than actually showing people that it meant business. As if his arrival on the national scene and grabbing the limelight for all wrong reasons, he continued his drama even after becoming chief minister of Delhi.
Kejriwal has actually made a mockery of a constitutional post. He may go around the country claiming he gave up the government as he was not after power. But when he had power what did he do?  Are people of Delhi going to remember him as someone who changed their lives or someone who just pretended to be doing something but was always looking for a escape route when he realised the promises he had made will take a lifetime. Alas! the man in a hurry had so many other things lined up that he chose to let down the very people who made him what he is today.
The Indian audience is back to Saas Bahu drama. They at least know they are not going to run away. May be its time they gave the country the next big thing it desperately needs. We have all heard of one-film-wonders. Kejriwal too falls in the same category. No wonder he is seen as Indian Institute of Theatre (IIT) graduate!