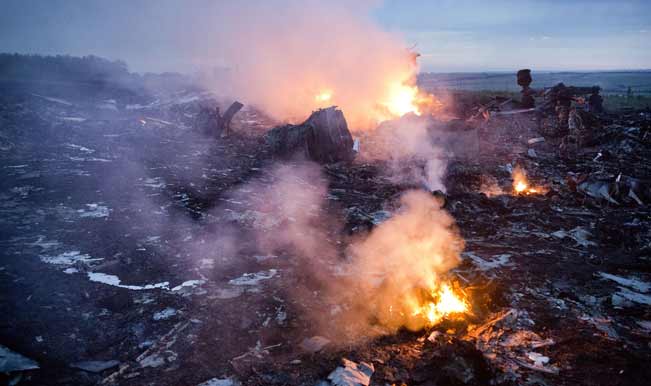 Kuala Lumpur, Jul 18: A Malaysia Airlines plane was blown up over Eastern Ukraine by a sophisticated missile believed to be fired by pro-Russia rebels, killing all 298 people on board, as Malaysian Prime Minister Najib Razak today demanded that perpetrators must swiftly be brought to justice.
"This is a tragic day in what has already been a tragic year for Malaysia. The flight's passengers were from many nations but we are all united in grief," Najib said today. The Boeing 777 was on a scheduled flight from Amsterdam to Kuala Lumpur and it had not made a distress call.
It is still not clear if the Malaysia Airlines Flight MH17 was shot down purposely or mistakenly yesterday. Najib said a probe would begin immediately into it. "The government of Malaysia is dispatching a special flight to Kiev, carrying a special Malaysia disaster assistance and rescue team, as well as a medical team," he told reporters at a press conference.
He said that Ukrainian authorities believed that the plane was shot down by pro-Russia rebels but that Malaysia was unable to verify this at this moment. "If it transpires that the plane was indeed shot down, we insist that the perpetrators must swiftly be brought to justice," he said.
Najib said he had talked to Ukraine President Petro Poroshenko who pledged a thorough investigation into the incident.
In a statement, the Malaysia Airlines (MAS) said the International Air Transportation Association (IATA) had stated that the airspace Flight MH17 was traversing was not subject to restrictions.
The flight manifest of the plane indicated that the MH17 had onboard 154 nationals from Netherlands, 43 Malaysians, 27 Australians, 12 Indonesians, 9 from UK, 4 from Germany, 4 from Belgium, 3 from the Philippines, one from Canada. About 100 of those killed in the crash were world- renowned AIDS researchers and activists heading to Australia for a global AIDS conference, reports said.
MAS said nationalities of 41 passengers were still to be verified. The 15-member Malaysian crew included two ethnic Indians. Meanwhile, European flights operated by Malaysia Airlines would be taking alternative routes and avoiding the usual route with immediate effect, the airline said.
The usual flight route, the national carrier said, was earlier declared safe by the International Civil Aviation Organisation. Ukraine's president Poroschenko described the crash as an "act of terror" and vowed to bring to justice those responsible. He denied any involvement by Ukraine's security forces in the crash and emphasised that they fired no shots to hit a target in the air.
He also announced the setting up of an inquiry commission to investigate the disaster and invited international experts, including from the Netherlands and Malaysia to participate.
Pro-Russian separatists also denied that they were behind the shooting down of the aircraft and insisted that they were not in possession of a weapon system capable of hitting an aircraft at a very high altitude. They accused the Ukrainian army of shooting down the jet.
US President Barack Obama has called Malaysian Prime Minister and his Ukrainian counterpart to discuss the situation of the plane crash. The White House called for "a full, credible and unimpeded international investigation" into the incident.
UN Secretary-General Ban Ki-moon also called for "a full, transparent and international investigation."  The crash comes four months after the Beijing-bound Malaysia Airlines flight MH370 disappeared with 239 people including five Indians on board after taking off from Kuala Lumpur on March 8. The plane has still not been found.