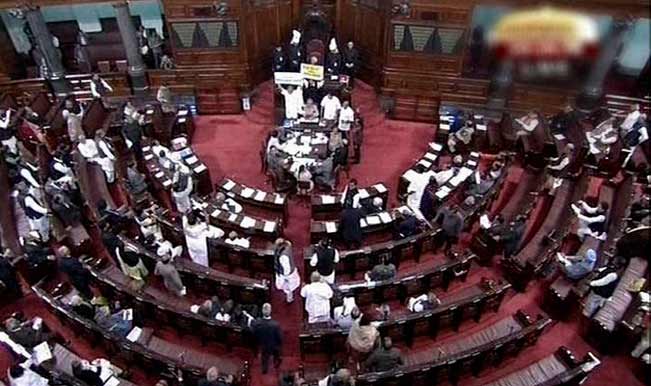 New Delhi, Aug 4: Rajya Sabha today witnessed two adjournments during Question Hour as AIADMK members vociferously protested against a "derogatory" article against Tamil Nadu Chief Minister J Jayalalithaa on Sri Lankan government website.
AIADMK members trooped into the Well shouting slogans, which made Chairman Hamid Ansari to observe that their behaviour was unbecoming of Members of Parliament. When the House met, Ansari congratulated the Indian sports contingent for winning 15 gold medals, 30 silver and 19 bronze medals at the Commonwealth Games at Glasgow, Scotland, saying their achievement had made India proud.
AIADMK members moved into the aisles displaying copies of the article on the Sri Lankan Defence Ministry website. Sri Lanka has already apologised for the article and removed it from the website. "What are you doing? I am sorry you can't do this," Ansari remarked as AIADMK members moved into the Well. He then adjourned the House for 15 minutes.
When the House reassembled, similar scenes were witnessed. This is no way of raising an issue. Tell you colleagues to go back to their places," he told AIADMK leader M Maitreyan, who too was up on his feet raising the issue. But the members continued to shout slogans and soon Maitreyan too trooped into the Well as the din continued.
"This behavior is unbecoming of Members of Parliament," Ansari said. "Ten members are holding the House to ransom. This behavior is unbecoming of Members of Parliament," he said, before adjourning the House till noon.