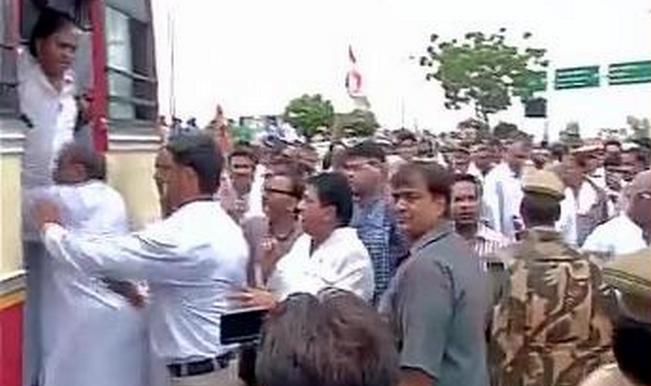 Moradabad, July 26: The Uttar Pradesh Police today stopped Congress leaders from going to Moradabad District, where the tempers have flared since July 4 over installing a loudspeaker inside a temple complex. Leaders from both the Congress and the Bharatiya Janata Party are scheduled to visit the district even as paramilitary forces were deployed near the Kanth Police station.
Uttar Pradesh Police has decided to stop vehicles going towards the city so as to maintain the situation.
BJP leader Sangeet Som had decided to visit the district and protest against Senior Superintendent of Police (SSP) Dharamvir, whom the party has accused of acting at the behest of the Samajwadi Party-led UP government.
"We only plan to go to Moradabad to protest against the SSP who has been acting like a spokesperson of Samajwadi Party," said Som.
Meanwhile, Communist Party of India (CPI) leader D Raja lashed out at the BJP and said, "The mandate which BJP want has gone to the extreme elements of BJP. It is a grave threat to secularism."
He also appealed Chief Minister Akhilesh Yadav to be cautious and to take appropriate actions. "BJP cannot take people for granted. The issue should not be addressed as a legal or technical issue but as a political issue," D Raja added.
At the epicentre of the trouble in Moradabad is a temple in Muslim dominated Akbarpur village belonging to the Jatav community. Trouble started last month after a section of villagers protested against installation of a loudspeaker in the temple.
The VHP has reportedly demanded re-installation of loudspeakers and wants to perform puja at the temple.