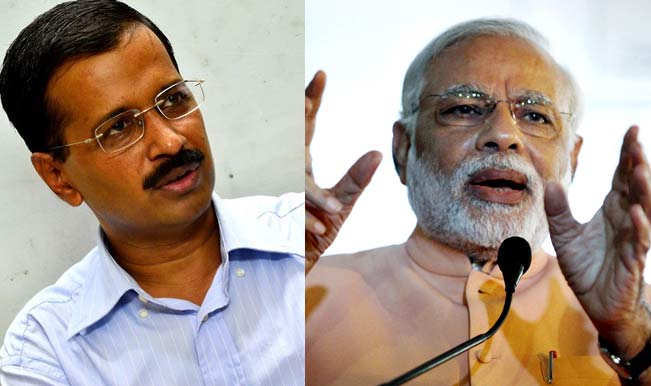 Varanasi is known for its traditions and culture. The city of Hindu pilgrimage in which river Ganga flows. But suddenly Varanasi has become a political battle field of top leaders of different parties. After the hints that Aam Aadmi Party (AAP) leader Arvind Kejriwal would be contesting against Narendra Modi, the battle has become more intense. Now it has turned into 3-cornered after the entry of Bahujan Samaj Party's (BSP) candidate Mukhtar Ansari.
Just few days before the announcement was made that BJP's prime ministerial candidate Narendra Modi will contest from Varanasi constituency, Murli Manohar Joshi's supporters started campaign for Joshi in the constituency which led to speculation that Joshi is not willing to vacant the seat for Narendra Modi. However, later he agreed to contest from Kanpur and Narendra Modi has been finalized for Varanasi.
As soon as Varanasi was announced for Narendra Modi, everyone started looking at AAP chief Arvind Kejriwal's move. During his visit to Gujrat, his claims of exposing Gujarat's development model and his comments over media of being pro-Modi clearly have indicated that Arvind Kejriwal is planning to pose direct challenge to PM aspirant Narendra Modi. After the final call of BJP about Varanasi, Kejriwal announced that he is ready to take on Narendra Modi from Varanasi if the people of the constituency want him to do. Arvind Kejriwal declared to hold the party rally in Varanasi on 23rd March and then to announce his final decision. However BJP may reject the idea of tough competition from Arvind Kejriwal but fight between Narendra Modi and Arvind Kejriwal may not be no-contest.
The fight has become tougher after the BSP's entry in the fray. BSP has announced Mukhtar Ansari as its candidate from Varanasi seat. Political pandits are expecting that Mukhtar Ansari will eat into the vote share of BJP and can create problems for its prime ministerial nominee. In 2009 Lok Sabha elections,  Mukhtar Ansari was a close second losing to Murli Manohar Joshi.
However, Arvind Kejriwal's decision is not vivid yet, but the battle of Varanasi seat has become interesting already. First Arvind Kejriwal and now Mukhtar Ansari, Narendra Modi will have tough fight in temple town. The only smiling face would be of Congress supporters. Although, 16th Lok Sabha polls have drawn the attention of everyone and everyone is eager to know the result of it, but the battle of Varanasi seat has also become a hot topic and everyone is having a keen watch over it.