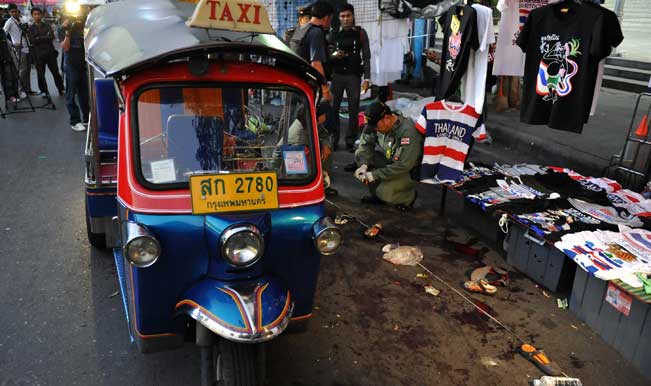 From Jaishree Balasubramanian
Bangkok, Feb 23: Two children and a woman have been killed and nearly 60 others injured in Thailand as anti- government rallies were rocked by an explosion and a drive-by shooting attack in which gunmen lobbed grenades and fired indiscriminately at protesters.
The explosion took place this afternoon near an anti-government rally site in a central Bangkok shopping district killing two people and injuring at least 22 others. The bomb went off near one of the biggest shopping malls here in an area popular with tourists.
"A 12-year-old boy and a 40-year-old woman have died from severe injuries inflicted by a bomb blast near Big C Ratchadamri that also injured 22 others," the Bangkok Metropolitan Administration's Erawan Emergency Health Service reported.
The injured include a nine-year-old boy who has a serious head wound and internal bleeding while a girl of the same age is also in a critical condition with internal bleeding. A tuk-tuk (autorickshaw) driver was caught by the anti- government People's Democratic Reform Committee (PDRC) guards on suspicion that he was behind the bomb attack. The drive-by shooting attack occurred last night in Trat province, about 300 km east of Bangkok, where protesters were holding a rally demanding the resignation of Prime Minister Yingluck Shinawatra.
Suvichan Suwannakana, a spokesman of PDRC, said about 2,000 demonstrators were present at the rally during the attack. The gunmen in pick up trucks threw grenades at a noodle shop near a sit-in by 20 people including PDRC guards. The men also fired indiscriminately at the noodle shop and then turned their guns to the stage, killing a five-year-old girl and wounding 34 people, including five critically.
The girl died after being hit by a grenade fragment on her head. A seven-year-old boy?was in a serious condition after he too was hit by a grenade fragment.
Some people have criticised parents for taking children to a political rally. Anti-government PDRC today demanded the caretaker government accept responsibility for the attack in Trat.
"This attack was carried out by people who disagree with the PDRC in what was clearly a well-organised strike using M16s and grenades," PDRC spokesman Akanat Promphan was quoted as saying by the Bangkok Post.
"It's time for the government to take responsibility for these attacks," he said.
The attacks are the latest in political violence in Thailand which is witnessing anti-government protests by opposition backed demonstrators who want Shinawatra to quit. The protesters accuse Yingluck of acting as a proxy for her fugitive brother, former premier Thaksin Shinawatra who was ousted in a coup in 2006. He lives in self-imposed exile in Dubai to escape a jail term on a corruption conviction.
Seventeen people have been killed and hundreds injured so far in the political strife in the last three months. The recent violence is the worst political bloodshed in Thailand since 2010 when protests by pro-Thaksin "Red Shirts" left more than 90 dead and nearly 1,900 injured in clashes and a military crackdown. PTI