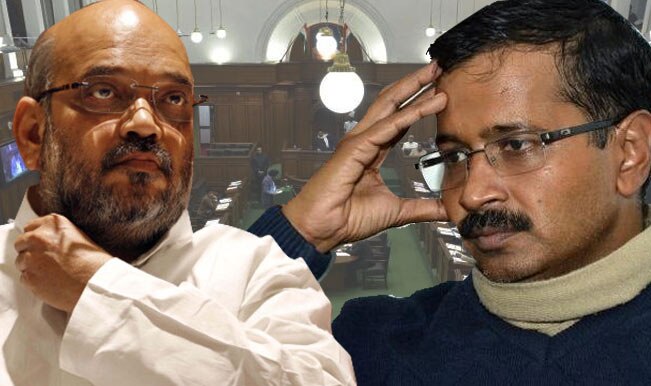 The Delhi Assembly is once again in news as BJP tries to get numbers to form the government in Delhi. But Arvind Kejriwal led Aam Aadmi Party (AAP) may derail BJP's plan of forming the government by taking support of its MLAs and that of Congress.
Since February 14 Delhi has witnessed Lt. Governor Naeeb Jung's rule. Winning the 2013 Assembly Elections of Delhi in a grand style, AAP not only beset the incumbent Congress party but also managed to win 28 seats, only 4 short of BJP, which won 32 seats. The results of recently concluded Lok Sabha Elections has made the BJP more upbeat about its plans to form the government.
After the Delhi Assembly Elections held in December 2013 the party position was:
BJP- 32 seats; AAP- 28 seats; Congress- 8 seats; JDU- 1 seat; Independent- 1 seat.
Fast forward to July 2014, the scenario is completely different and more confusing. Resignations from AAP and Assembly Elections candidates from BJP who won in the General Elections 2014 have made the numbers quite interesting. Three candidates from BJP won the Lok Ssabha Elections and their number has dropped to 29, whereas resignation of Vinod Kr Binny has reduced the number of AAP to 27.
Rumour mills worked overtime as there were speculations that BJP was all set to form the next government in Delhi. The BJP claimed that they had the support of eight MLAs from AAP who are ready to break free and support BJP. AAP supremo Arvind Kejriwal alleged that the BJP was now resorting to horse trading fearing fresh elections. On the contrary, BJP Delhi unit chief Satish Upadhyay denied all the allegations saying BJP never did or will resort to horse trading. There isn't much talk about the Congress party which managed 8 seats.
The talks, speculations and rumours are on and high. The political arena in Delhi has lightened up once again. The question that arises is should the BJP form the government in Delhi with a fractured mandate or face the fresh verdict of Delhi ke janata! Take the poll and let us know what is your choice when it comes to Delhi.

Loading ...