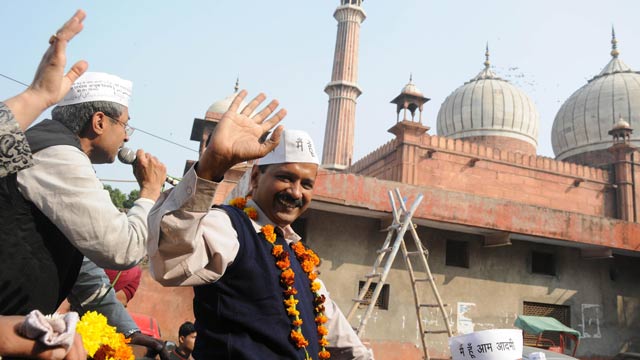 The emergence of Aam Aadmi Party (AAP) as a force to reckon with in the Delhi assembly elections was welcome sign for Indian democracy. While regional parties like DMK, AIADMK, TDP or TRS have always played a key role but it was still a very local presence. So what makes AAP different?
To start with, AAP is everything that all the major political parties are not. If that is its biggest strength, it is its biggest weakness too, for all its action will be watched closely and scrutinized with a microscope.
With both BJP and AAP declining the offer to form the government the Lt Governor Najeeb Jung recommended President's Rule in Delhi. This would have brought to end all the efforts to form the government but instead a new drama began with AAP going to public for their feedback on what they should do. Since this is AAP's first taste of politics they are over cautious of doing anything wrong and that makes them all the more vulernable.
So why after waiting for a fortnight AAP is ready to form the government?
AAP's numbers since December 8 have not changed. So if they did not had the numbers then and were ready to sit in opposition, what suddenly makes them interested in forming the government now? The party harped upon the clean governance issue in its campaign but the passage of Lok Pal Bill by the government must have given them a rude shock. Their only agenda was gone. Was it the bleak future after the Parliament passed the Lok Pal Bill that the party weighed its options and realized it had no issue worth mentioning in its arsenal for the Lok Sabha elections next year.
Kejriwal claims it is the wish of the people that AAP forms the government. He even launched a campaign asking people for their opinion on whether AAP should form the government. This obviously is the beginning and we will see more such 'going back to people' acts in the future.
If this is how the Delhi government will function Kejriwal may launch a full fledged call centre for this purpose. Hence forth the AAP government will consult the people on all issues from price hike to how to make the government more efficient.
Even before the government is sworn-in AAP is already saying it cannot trust Congress and they might bring down the government in six months. If that is the case why is government being formed in first place? It is like going to a Uday Chopra movie hoping against hope that it will be a good movie.
But what are the chances of AAP surviving in Delhi assembly? It will need numbers to get the major reforming bills it plans to bring through. The shrewd person that Arvind Kejriwal is he must have planned his escape route. What remains to be seen is how soon we get to know what it is.