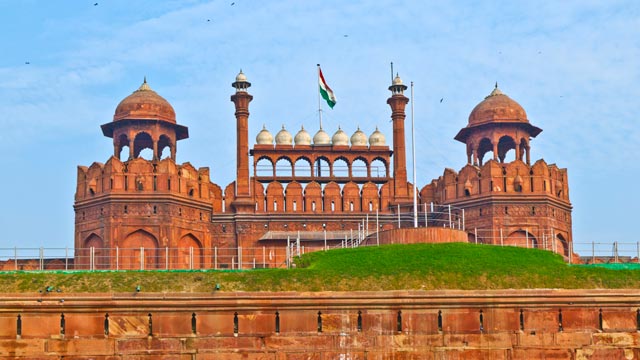 Prime Minister Narendra Modi announced the launch of 'Jan dhan' scheme to facilitate opening of bank accounts for all poor people. Under the scheme Rs one lakh life insurance cover for the persons insured. Prime Minister also raised the issue of skewed sex ratio and said it is a blot on 21st century.
Modi raised the issue of violence and said violence does not give us anything. He urged the youth to leave the path of violence. He said be it caste or communal violence, they stall the growth of the nation. Let us affirm that we will be free from these tensions. Modi said need of the hour is to leave the path of violence.
PM asks people to undertake at least a 10-year moratorium on communal, caste and class clashes to see positive results.

— Press Trust of India (@PTI_News) August 15, 2014
  Modi greeted the people of India as the 'Pradhan Sevak' on Independence Day. In his maiden address from the ramparts of the Red Fort Modi paid tributes to the martyrs who laid down their lives. In his extempore address, Modi also remembered all those who have worked for the Independence of the country.
Law will take its own path but we need to take responsibility to bring our sons who deviated from right path to bring them back: PM — PMO India (@PMOIndia) August 15, 2014
PM Modi: Incidents of rape, people turn pycho-analysts. As parents you ask daughters where do you go?why? Why not ask sons these questions — ANI (@ANI_news) August 15, 2014
  Modi took a swipe at the media for reporting stories like officers have started coming on time. These stories reflect where we have reached.
When I read that with the new government officers came on time I was not happy- should officers coming on time be news: PM @narendramodi — PMO India (@PMOIndia) August 15, 2014
  Let us walk together, think together, and make a determination to take the nation ahead together: PM Narendra Modi — PMO India (@PMOIndia) August 15, 2014  Modi paid tributes to previous Prime Ministers, governments for taking the country to new heights.
These days give us inspiration & they showcase the national character. This day can inspire us to take India to newer heights: PM — PMO India (@PMOIndia) August 15, 2014
Modi paid tributes to Mahatma Gandhi at the Rajghat. Modi inspected the police Guard of Honour ahead of his address to the nation from the ramparts of the historic Red Fort on Independence Day. Modi will unfurl the tri colour at the Red Fort. Breaking from tradition Modi will speak extempore when he delivers his first Independence Day address in which he is expected to outline his vision and agenda for his tenure.
The Prime Minister greeted the people on the occasion of Independence Day. He tweeted:
Greetings to my fellow Indians on Independence Day! May our Tricolour fly high & our nation scale new heights of development. Jai Hind.

— Narendra Modi (@narendramodi) August 15, 2014
Traditionally, the Prime Ministers read out a prepared text while addressing the nation on the Independence Day. However, Modi is known to deliver speeches extempore. He is also expected to speak on issues related to foreign policy.Modi is expected to unveil an ambitious financial inclusion scheme to provide bank accounts to 15 crore poor persons with an overdraft facility of Rs 5,000 and accident insurance of Rs 1 lakh. The government is gearing up to operationalise the scheme across the country on August 28 or 29. The scheme, to be pushed by the government in a mission mode, seeks to provide two accounts to 7.5 crore identified households by August 2018.
Given the security threat to Prime Minister Modi from several terrorist outfits, the security apparatus for the Independence Day celebrations has been scaled up this time. A multi-layered security cover consisting of thousands of armed personnel will keep a hawk-eyed vigil to pre-empt any possible terror strikes in the city.
Watch: Narendra Modi Independence Day speech live streaming: Speech from Red Fort on 15th August 2014
A ground-to-air security apparatus has been put up, especially near Red Fort. Heightened security is in place along the route to be taken by the Prime Minister's cavalcade and around Rajghat, where he will lay a wreath at the Samadhi of Mahatma Gandhi. Thousands of Delhi Police and paramilitary personnel will be deployed at marketplaces, the airport, railway stations, inter-state bus terminals, metro stations and places of strategic importance.
Read: Independence Day SMSes: 10 Best Patriotic WhatsApp & Facebook Messages for Indian Independence Day 2014
And, besides the patrolling of the skies by helicopters, an air defence mechanism has also been deployed around the venue. Around 5,000 personnel of Delhi Police are deployed for security, frisking and traffic management in and around the venue. Security personnel from the central paramilitary forces are also pressed into service.