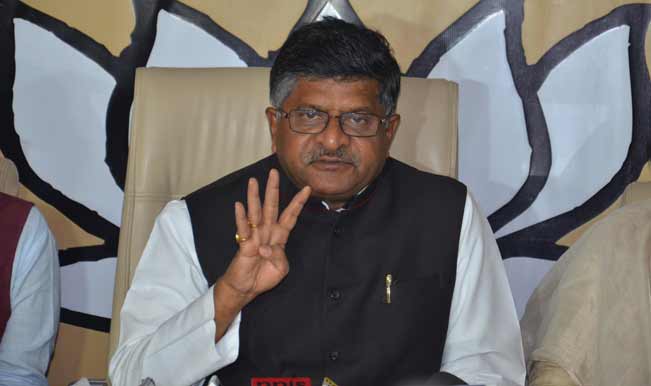 New Delhi, Aug. 17 : Taking a dig at Bihar leaders Nitish Kumar and Lalu Prasad Yadav, Union Law Minister Ravi Shankar Prasad today said that the people of Bihar were smart enough to know what the nation wants. His remarks have come ahead of former arch rivals Lalu Prasad Yadav and Nitish Kumar's second rally in Bihar's Chhapra today.
Prasad said, "The public of Bihar is smart enough. They know what the nation wants. They are also seeing that from 15th August, Narendra Modi is talking of walking with 125crore people to change the nation. And these two people are trying to stop him. People of Bihar will decide," he added.
Lok Janshakti Party (LJP) chief Ram Vilas Paswan's son, Chirag Paswan also said that the two leaders were corrupt people who had come together. Paswan said, "Two corrupt people have come together who have full support of Congress. The party which owns a never ending list of wrong doings. Now let's see what happens. They were rejected in Lok Sabha elections and in the by-polls we are sure of winning all the ten seats", he assured.
Lalu Prasad Yadav and Nitish Kumar, both previous chief ministers of Bihar, have joined hands to fight the BJP in the upcoming by-elections in ten constituencies in Bihar. Sharing a dais for the first time since 1991, the two leaders joined hands to campaign together for the upcoming by-elections, to be held in ten constituencies in the state.