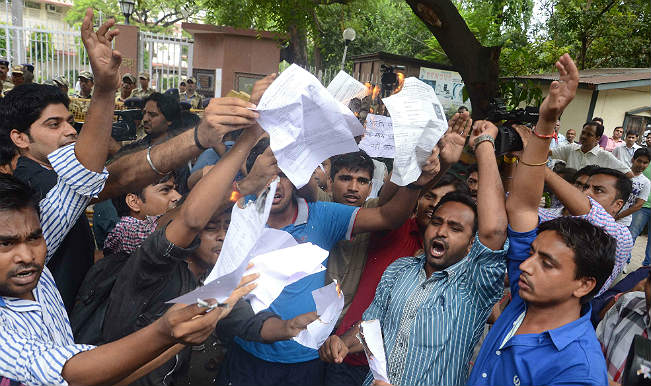 The Narendra Modi-led government has finally come to terms on the issue revolving around the Union Publice Service Commission (UPSC) exams and the new rules that were due from the revised pattern in the examination since 2011. The ruling Bharatiya Janata Party-led NDA government has now decided to give an extra chance to the aspirants from 2011 to give the exam on one more occasion in 2015. The Education ministry has also decided to not consider the English marks for the total evaluation for gradation or merit in UPSC.
The CSAT-II paper carries questions on comprehension, interpersonal skills including communication skills, logical reasoning and analytical ability, decision-making and problem-solving, general mental ability, basic numeracy, and English language comprehension skills (of Class 10 level).
Before CSAT 2011, there was a paper of General Studies (GS) which carried 150 marks and a second paper, where the candidate had the option to choose from 23 optional papers, carrying 300 marks. But under the revised pattern, there are two papers now each of 200 marks.
The CSAT came into being from 2011 in order to carry out a proper screening of students so as to evaluate them on the basis of comprehension, interpersonal skills and analytical ability. The name CSAT though never took off and people just kept calling it Civil Service Preliminary  (CSP)Examination.
The controversy that arose along with CSAT was that the Hindi medium background students found it difficult to comprehend with the higher level of the Language used in the paper. They also said that the translation that came along with the English paper was so bad that even the best of students who are well versed with Hindi and English wouldn't be able to solve the paper.
Some of the civil service aspirants argue that sheer lack of English proficiency among millions of youth puts these Hindi-medium students at a disadvantage in CSAT.
People also said that the level of the mathematical questions in these papers is so high that the students from non-science background could hardly solve or understand them. These problems gave rise to the the questions that there is a conspiracy against the rural population of India from being a part of the civil service office.
After a struggle of almost three years the government has finally agreed to the terms of the protestants and has found a middle way and keeping in mind the welfare of the students and also the requirements necessary for being selected to the civil service and has allowed the aspirants from the 2011 batch to give the exams once more and more importantly has removed the marks in English to be considerable for gradation and merit in UPSC.