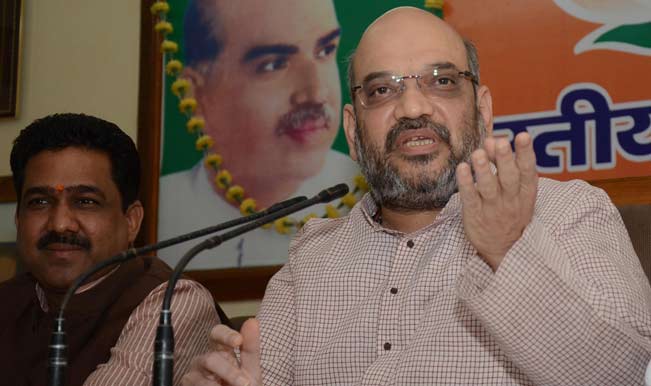 Bhartiya Janata Party Chief, Amit Shah in party's national council meeting asked party workers to put their efforts to win all forthcoming assembly elections with full majority. He also argued that next government in Maharashtra state will be led by BJP.
Amit Shah's statement has lots of political meaning and has created bitterness between BJP and its decade old partner Shiv Sena in Maharashtra. Taking strong stand against saffron party chief's commitment to work for winning assembly election on its own, senior Shiv Sena leader Manohar Joshi said, "We don't agree fully with Shah's statement. It is unfortunate and might lead to cracks in the saffron alliance."
When assembly election elections are few months away in Maharashtra, Amit Shah's statement may aggrieve Shiv Sena while there is a tussle between both the parties over seat sharing. In 16th Lok Sabha elections, BJP took over Shiv Sena and bagged 23 seats while Shiv Sena could win on 18 seats only. Till now BJP has been contesting Maharashtra assembly election on fewer seats than Shiv Sena but now it seems BJP would seek more seats. However Shiv Sena has already made clear the current seat formula will be applied according to which Shiv Sena contests on more seats.
Apart from it, Amit Shah also indicates that if BJP-Shiv Sena alliance would win in Maharashtra assembly elections then BJP would demand Chief Ministerial post too while Shiv Sena has been projecting Udhav Thackeray as chief ministerial candidate.
An opinion poll has predicted that Poll Sena-BJP would win 210 seats out of 288 seats in the forthcoming assembly polls in Maharashtra. But Amit Shah's remarks have miffed Shiv Sena and it led to the speculations that BJP and Shiv Sena might contest elections separately. Whether BJP-Shiv Sena would contest election together or not? Only time will tell but Amit Shah has become reason of some cracks in saffron alliance.