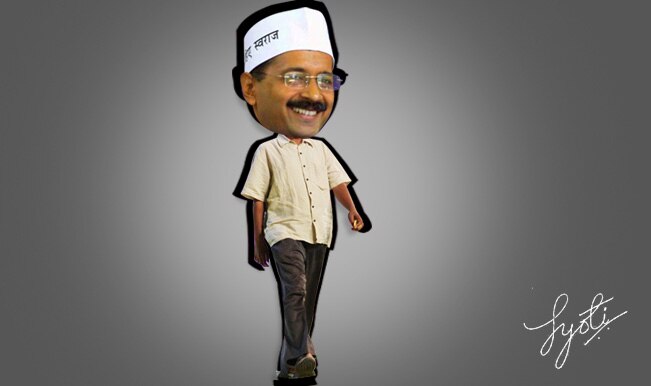 In the wintry lanes of Bara Mohalla in Hisar, Haryana, on 16 August 1968 on the day of Janmashtami, Gita Devi and Govind Ram were blessed with the arrival of their first-born. His grandparents decided to call him Krishna. Now, 46 years later, the world knows him as Arvind Kejriwal, former chief minister of Delhi and a hero of political revolution in India that does not derive its power from religion, caste, class or cadre.
Early career: Arvind Kejriwal was born in a well-educated family. His father was an electrical engineer who graduated from the Birla Institute of Technology. Young Kejriwal followed him. A frail Kejriwal with a scrubbed-clean face and thickly combed hair was always topper of his class. According to his classmates Kejriwal was often found sitting quietly in the classroom. He was not outdoorsy types, he preferred chess and books to cricket and football.
An Incident: Even as a young teenager, he would display a sense of responsibility and righteousness that took those around him by surprise. His friends speak of an incident when he had been selected to represent his school in a debate but got high fever the night before the competition. No one expected him to turn up the next day, but he reached the venue riding pillion on his father's scooter wrapped in blankets, determined to not let the school down.
After school education, Kejriwal studied mechanical engineering at Indian Institute of Technology Kharagpur and then from 1989 he worked for Tata Steel. According to his batch mates when they were planning for their careers, Kejriwal would always talk about doing something that would change India. Kejriwal joined the Indian Revenue Service in 1995 after qualifying through the Civil Services Examination. In February 2006, he resigned from his position as a Joint Commissioner of Income Tax in New Delhi. Although he had a bright future, he thought for the bright future of the country. How many of us dedicate our lives to the nation when we have a lucrative career in front of us?
A short love story: Kejriwal met Sunita during his training at the Lal Bahadur Shastri Academy of Administration in Mussoorie in 1993 and in love with her. One day he knocked at her door and proposed her. They god married in 1994.
Political journey: His early influences were V.P. Singh, whose honesty in the Bofors scam as defence minister and whose efforts for social justice by implementing reservation on the basis of the Mandal Commission report as prime minister inspired a young Kejriwal. Kejriwal was strongly opposed towards BJP for the Ram Mandir movement, which culminated in the demolition of the Babri Masjid in Ayodhya in 1992. For reforming the society Kejriwal quietly started Parivartan, with the help of Rs.50,000 donated by his brother Manoj and another Rs.50,000 given by a maternal uncle, an organization that has never been officially registered. It is run by  few young volunteers who have helped thousands of citizens get everyday benefits—like a ration card or an electricity connection—without paying bribes to government officials. Parivartan (which means change) is also spearheading research into the right to information (RTI) and governance issues. But Kejriwal felt his NGO's impact was limited. Later he started filling RTI to reveal scams and took part with Anna Hazre in the Jan Lokpal movement and later formed the Aam Aadmi Party (AAP) and the rest is history.
Political moves: Although there can be a huge discussion about Kejriwal's resignation from the post of CM but his supporters claim that he had played an intelligent move according to then political scenario. They say Kejriwal's resignation over Jan Lokpal bill puts Congress and BJP in sideline. It seemed that congress and BJP are against to form a strong Jan Lokpal to crusade corruption and only AAP wanted to bring it. It gave an impression to Arvind Kejriwal of a hero who stands alone against all odds for people. After quitting he put all his efforts for campaigning for Lok Sabha elections. He fulfilled some promises and accusing other parties for not allowing to bring strong Lok Pal he resigned. He showed that an Aam Aadmi not only can govern but play politics too. However, after the general election results came out, AAP's debacle performance has put AAP and Kejriwal in a corner. Party members are raising questions on his ability and credibility.  But it all happens in politics and he is countering in the same manner."
Lifestyle of an Aam Aadmi: However mostly politician prefer to wear white kurta and Khadi jacket, but Arvind Kejriwal adopted a common man's outfit. He often dresses in his trademark grey trousers, a navy blue sweater, and a muffler wrapped around his neck. His personality and appearance clearly reflect his thoughts which connect him from the common man of the country. He travels in his Wagon R car donated to AAP by one of his supporters. After becoming a Chief Minister of Delhi, he did not change. He rejected to take Z plus security. However, he accepted a  bungalow. He did Dharna and slept on the road. However his rivals claim that it was a political drama but one thing is sure, the common man of the country now connects with him and that is what he achieved by this.
Arvind Kejriwal in Entertainment and social media: Although, Arvind Kejriwal is very much away from glamour and entertainment world, he is still a hit in social media. Videos like "Yo Yo Kejru Singh" and recently "Nayak 2" based on him went viral on social media. Kejriwal has millions of followers over Twitter too. Kejriwal used social media to reach out the people and that is why he has become a threat for big guns of politics.
A revolutionary: As it is said "a new broom sweeps well", Arvind Kejriwal has changed the whole political system of the country. His motives are noble or not we don't know, but he has given hope to middle class common man that yes they can bring change. Kejriwal involves common man while making policies, which makes him stand apart from others. From the formation of the party to the decision of making government Kejriwal asked his supporters for their opinions. It indicated a new ray of hope in order to reform the political system of the country. Arvind Kejriwal has broken the mindset of the people and especially of politicians that one can only win the election over caste and religion based issues. He proved that an Aam Aadmi not only contest for election but also can win barring religion, caste, class or cadre. As Shahrukh Khan says in "Chennai Express" "don't underestimate the power of a common man", Arvind Kejriwal conveyed the same message successfully. He thought for change and brought it. Thumps up for Arvind Kejriwal!