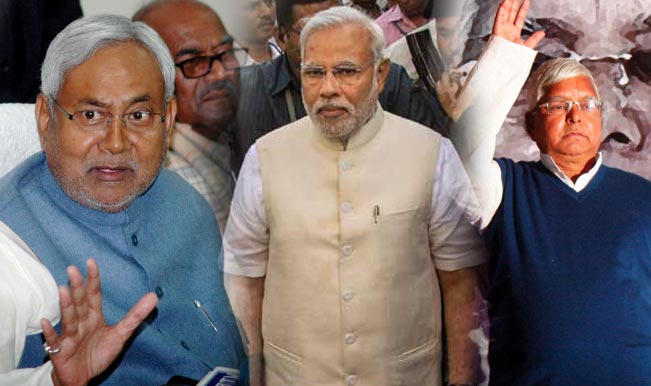 Bihar will witness by-polls on 10 assembly seats on August 21. These by-polls are significant because it has brought two traditional rivals Lalu PrasadYadav and Nitish Kumar together in the state. Rashtriya Janata Dal (RJD) chief Lalu Prasad Yadav and Janata Dal (United) – JD (U) leader Nitish Kumar embraced each other after more than two decades in Bihar. Now with Congress, the alliance will take on BJP.
The by-polls in Bihar will be a litmus test for BJP after their landslide victory in the recent Lok Sabha elections. The by-polls will be tough for BJP because all major anti-BJP parties in the state have come together to stop BJP's winning rath.
It seems that RJD-JD(U)-Congress alliance has some advantage. When we look at the numbers, in the 2014 Lok Sabha elections, NDA bagged 38% of total vote share while RJD and JD (U) together got around 44% votes. However they contested elections separately. Likewise in the 2010 assembly elections, RJD-JD (U) polled 49.83% votes against the 23.21% of the NDA, which includes Ram Vilas Paswan's Lok Janshakti Party. Moreover, this time Congress is also with them. Bihar, where caste politics plays a vital role, Lalu Prasad Yadav and Nitish Kumar both represent two powerful caste groups which becomes plus point for the alliance.
However, the three major Left parties in Bihar on formed a grand alliance, describing JD (U), RJD and Congress tie-up as "opportunistic. But the real contest will be between BJP led NDA and RJD-JD(U)-Congress alliance. However, the good news for RJD-JD(U)-Congress alliance is that this time the Muslim base will not split as three parties have come together. But Muslims will not have a big say in the bypolls and constituency delimitations have put the NDA at an advantage in some places.
If anti-BJP alliance could not over come BJP, it would lead to split between RJDa and JD(U) and provide advantage to BJP. But if they manage to win in Bihar, coming on the heels of Uttarakhand by-election, it could spark off a realignment of anti-NDA forces which would harm BJP in other state assembly polls.