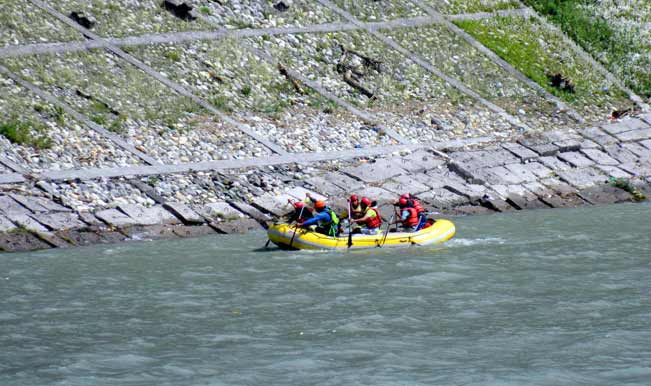 Jaipur, August 10: Army was today called to rescue people in Jaipur's sub-urban areas where torrential rains created flood-like situation with Kot-Khabda recording the maximum rainfall of 32cms during last 24 hours, an official said. District Collector K Kunal told PTI from the flood- affected site where he was monitoring the situation that Army was called as a stand by arrangement to meet any exigency in Jaipur's sub-urban towns of Bassi, Lalsot and Chaksu, and jawans were on way from Jaipur Army headquarters.
So far over 500 people stranded in low-lying areas were evacuated to higher places, the Collector said. Many small dams were overflowing and some anicuts (tributaries) breached causing inundation, he said, adding, the link roads were disconnected to the highways. He claimed that there was no loss of life so far, though some thatched roofs might have been collapsed where from no loss was reported.
The state rescue teams have reached Bassi, Lalsot, Chaksu, and Kot-Khabda to provide relief to people who have either remained in the houses or stranded here and there, a collectorate spokesman said. Roads and houses were inundated as a minor Jaisinghpura dam breached in Kot-khabda town covering Garh-ka-Bas, Bara-Bas, Chota-bas-Basti since yesterday, the spokesman said.
Rescue teams led by the Collector, ADM-II Teekamchand Bohra, and SDM Mahesh Narayan were providing relief to people and trying to find ways to release rainy water from the low- lying or inundated houses, he said. ADM-II Bohra told PTI over telephone that people in Bapu village were marooned as a pond was overflowing since last night, and rescue work was being made available with the help of civil defense people.
The District Collector has directed the police and civil departments to ensure safety of people first and move them to safer places as soon as possible. Barring north-western districts of Jaisalmer, Barmer, Jodhpur, Churu, Sriganganagar, the heavy rains occur in entire state since last night. Jaipur recorded a maximum rainfall of 60 mm at airport, while city areas recorded over 70 mm till this evening.  The public and private schools from class I to XII would be closed tomorrow in view of incessant rains in Jaipur district, the spokesman said.
"If situation improves following rains in peripheral sub-urban towns of Jaipur including Lalsot, Chaksu, Amber where flood-like situation emerged, the schools could be opened on August 12," he said. Meanwhile, according to MeT report, Chaksu recorded a maximum rainfall of 14 cms followed by Udaipurwati 10, Jamwaramgarh 9, Newai 7, Ramgarh-Pachwa 6, Bansur, Amber, Bassi, Shahpura, Kotputali, Malpura, Sawaimadhopur 5 cms each, and one to four cms at a number of places. MeT office, in a forecast, said SW monsoon would be active in the state during the next 24 hours.