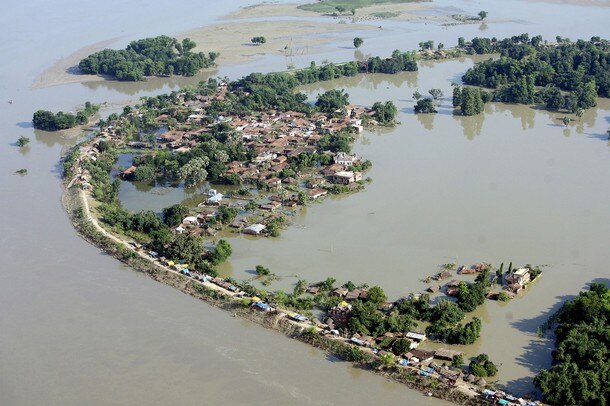 Earlier in monsoon season, lack of rain had led to fears of drought but now all that has changed. Heavy rains have caused landslides and inundated in many parts of India. Uttarakahand, Assam, Uttar Pradesh and Bihar being worst affected.
Two days of continuous rains have affected worse in Uttarakhand. More than 50 people have been killed in flood and landslides in the state.
Ganga, Nandakini and Pindar are the major rivers, which were flowing above the danger mark. Those rivers are now flowing below the danger level. Now weather has improved across Uttarakhand on Sunday with a let-up in rain as most places received little or no showers.
The Char Dham Yatra continued to be affected with the highways leading to the major shrines of Badrinath, Yamunotri and Gangotri blocked at a number of places.
In Uttar Pradesh 20 people have been dead.
Twenty people have been killed in Uttar Pradesh and approximately 1500 villages were flooded in Uttar Pradesh due to heavy rains. The release of water from overflowing dams in neighbouring Nepal has added to the impact of the downpours led to floods in villages across nine districts of Uttar Pradesh, where thousands were abandoned. Three Army helicopters were deployed to drop food and water to the people abandoned in shelters.
4 lakh people affected in nine districts of Bihar.
Two people have been killed and nearly four lakh people affected in nine districts of Bihar. Thousands of people continued to be affected in Bihar's Darbhanga, West Champaran and Nalanda districts after breaches in the embankments of Kamla Balan and Gandak rivers respectively.
More than a dozen teams of the National Disaster Response Force and state disaster response force have been deployed in flood-hit districts. Chief Minister Jitan Ram Manjhi and Chief Secretary Anjani Kumar Singh and Disaster Management Department (DMD) Principal Secretary Vyasji, conducted an aerial survey of the flooded areas and ordered all out efforts to provide relief to the people.
Situation is critical at flood prone areas of Assam
The water level of the Brahmaputra and its tributaries were rising alarmingly in Upper and Central Assam districts. The flood situation in Assam turned critical. Heavy rainfall in both Assam and neighbouring state of Arunachal Pradesh, an official report said. The rivers were overflowing in the districts of Lakhimpur, Dhemaji, Sonitpur, Nagaon, Morigaon and Dibrugarh.
The Kaziranga National Park and the Pobitora Wildlife Sanctuary were also heavily flooded forcing hapless animals to move to highlands to protect themselves.
In Orissa 47 people have been killed.
The Odisha government said that rain and floods have so far killed 47 people in the state since July. Although the situation has improved significantly, thousands of people continue to be marooned in the worst-hit Puri district. Narendra Modi sanctioned Rs 2 lakh for the kin of each of the dead, and Rs 50,000 for each of the seriously injured from the Prime Minister's National Relief Fund.
By Shri Krishna Iyer