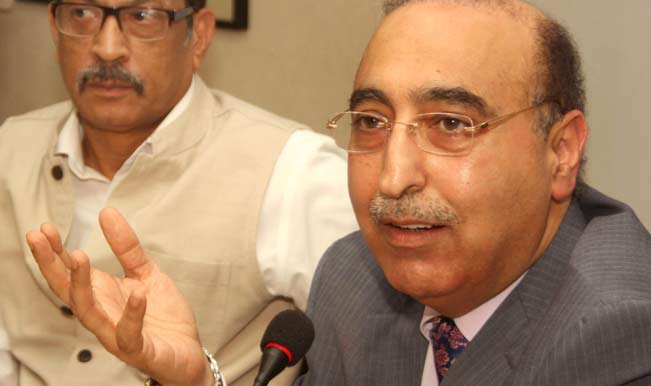 The invitation to Kashmiri Separatists from Pakistan High Commissioner has raked controversy and irked India which led to call off foreign secretary level meeting between India and Pakistan which was scheduled to hold on August 25. But the important question which arises is that 'Is Pakistan encouraging separatists in Kashmir?'
Pakistan High Commissioner Abdul Basit has invited separatist leaders of Kashmir. Mirwaiz Umar Farooq, chairman of Hurriyat Conference, Tehreek-e-Hurriyat founder Syed Ali Shah Geelani, Shabir Ahmad Shah founder of Jammu and Kashmir Democratic Freedom Party and Mohammad Yasin Malik chairman of Pro-independence JKLF have been invited for the talks.
Taking strong stand against the meeting of Pakistan envoy and separatists, Indian government called off the foreign secretary level meeting and said that pakistan's interference is unacceptable.
In past, Pakistani leaders have been meeting with Kashmir separatists but Pakistan Prime Minister, Nawaz Sharif avoided meeting Kashmiri separatist leaders during his visit to Delhi in May. He too expressed his desire to improve ties with India but Pakistan army continued ceasefire violations. Now the Pakistani envoy has invited leaders of all factions of the All Party Hurriyat Conference for consultations.
Pakistan sent out the invitation to the separatist leaders against the backdrop of a spurt in ceasefire violations along the LoC and international border in Kashmir. Even on Sunday, Pakistan troops violated ceasefire twice. India and Pakistan engaged in war of words after Narendra Modi accused Pakistan playing proxy war of terrorism against India while Pakistan rejected the statement calling it a 'baseless rethoric'.
Now Pakistan envoy's meeting with separatists has created bitterness between the two countries and environment on suspicions. However, India has called off the foreign secretary level meeting but the question still remains; Is Pakistan encouraging separatists in Kashmir?