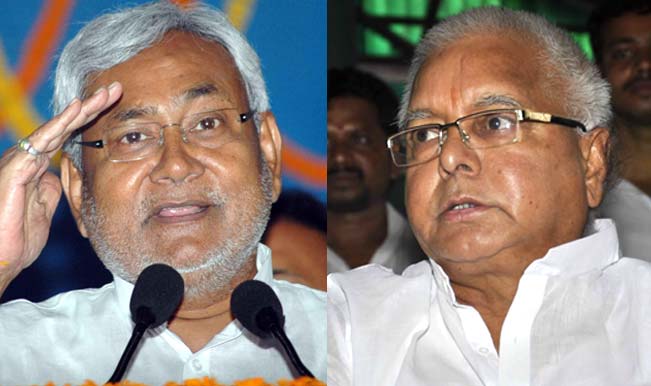 Politics is a game of possibilities. Putting all speculations aside, Rashtriya Janata Dal (RJD) chief Lalu Prasad Yadav and Janata Dal (United) – JD (U) leader Nitish Kumar embraced each other after more than two decades in Bihar. The reunion of two traditional rivals will change the equations of state and national politics. But the question that arises is: Will the Lalu Prasad Yadav-Nitish Kumar alliance be able to combat the Bharatiya Janata Party (BJP)-led National Democratic Alliance (NDA)?
Just a few months ago, Lalu Prasad was raising doubts about Nitish Kumar's 'secular' credentials and Nitish Kumar was calling him a "frustrated man". The foes have become friends now. The motive is very clear – they want to counter the Narendra Modi wave in Bihar.
If we look at the numbers, in the 2014 Lok Sabha elections, NDA bagged 38% of total vote share while RJD and JD (U) together got around 44% votes. However they contested elections separately. Likewise in the 2010 assembly elections, RJD-JD (U) polled 49.83% votes against the 23.21% of the new NDA, which includes Ram Vilas Paswan's Lok Janshakti Party.
Will this Lalu-Nitish alliance with Congress help them get back their reputation? We shall soon come to know as the by-polls on 10 assembly seats of Bihar are going to be held on August 21.
Bihar, where caste politics plays a vital role, Lalu Prasad Yadav and Nitish Kumar both represent two powerful caste groups.  The reunion may give advantage to both parties but it doesn't look to be beneficial for the state.
Nitish Kumar who won the 2005 assembly elections raising a voice against the 'Jungle Raj' created in Lalu's era and took Bihar towards development barring caste politics, is now again encouraging the caste system. It would be interesting to see whether this political mess created by JD (U)-RJD and Congress will send positive signals to the people of Bihar.