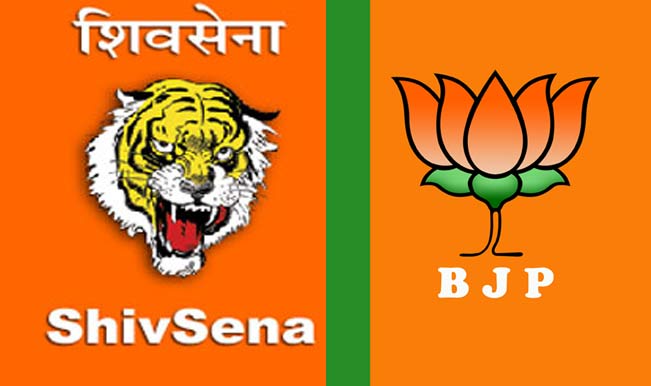 At one side, Nationalist Congress Party Chief Sharad Pawar has agreed to be firm on seat sharing issue with their traditional ally Congress, but at the other side Bhartiya Janta Party and Shiv Sena are still fighting with each other on seat sharing as well as for projecting their Chief Ministerial candidate in Maharashtra.
Since the day, BJP chief Amit Shah declared that the new government would be formed under BJP leadership in Maharashtra, the rift between BJP and Shiv Sena is increasing day by day. Apart from it, both the parties are arguing to project their party candidate for the post of Chief Minister.
The conflict has emerged because of traditional dominance of Shiv Sena in the state and BJP's new found confidence after tremendous victory in 16th Lok Sabha elections. BJP had been contesting on fewer numbers of seats than the Shiv Sena. But now, to cash in on Modi wave sentiment, the saffron party wants to review the current seat-sharing arrangement. Moreover, in 2009 assembly election, BJP won 47 assembly seats while Shiv Sena could win 44. Likewise in Lok Sabha elections, BJP took over Shiv Sena and bagged 23 seats while Shiv Sena could win on 18 seats only. So now BJP wants more seats in Maharshtra to contest.
Apart from this seat sharing conflict, BJP-Shiv Sena want to project their own candidate for CM post. Shiv Sena has already announced that Udhdhav Thackeray would become Chief Mnister if saffron alliance come into power. While after Amit Shah's statement, it is possible that BJP would also demand the CM post. There are report that Maharashtra BJP's new president Devendra Phadnavis may be projected as Chief Ministerial candidate.
BJP has also reportedly proposed 'two CM' formula if BJP-Shiv Sena form government. However BJP has seen the failure of 'two CM' formula in Karnataka when Janata Dal-Secular's H D Kumaraswamy went back on his word and refused to handover the office to BJP's B S Yediyurappa. But it looks only solution to save the alliance.
As assembly polls will come nearer political equations will drastically change. Let see whether BJP-Shiv Sena contest elections together or not. The split in the alliance would be a good news for the rival Congress-NCP but Raj Thackeray's MNS which has potential to eat into both the Sena and the BJP's votes, going alone for either is an option full of risk.