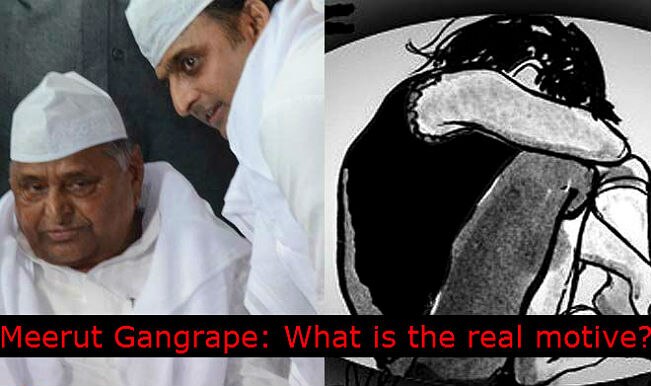 As if the news of another shocking gang-rape incident in Uttar Pradesh was not enough, Dainik Jagran reports suggest that the culprits removed the fallopian tube of the 20-year-old girl. A scar on the girl's stomach had created suspicion of kidney transplant but the medical reports showed that her kidneys were not removed.
Police in Uttar Pradesh swung into action after the gangrape of the young girl in Meerut created a furore on social media. Twitterati and Facebook users shared the plight of the young teacher who was not only kidnapped and gangraped but also was forced to convert her religion. The girl was allegedly raped inside a madarsa.
The latest reports suggested that police has arrested 3 suspects.
According to medical reports, one of the two fallopian tubes of the victim were removed, which means she will never be able to conceive. The administration in Uttar Pradesh, which has been a laggard in such matters in recent months, is preventing the truth to come out.
Reportedly, a 2 cm wide and 7 cm long mark is seen on the girl's stomach. The reality which came out is worse than that was feared as the matter is not only limited to rape but has extended its branch to religion conversion and organs transplant. The gangrape of the victim is alleged to have taken place on June 29, 2014. It is no hidden fact that organ transplant to Gulf nations from India is a new thing. Is there another story brewing here? That of organ transplant or any other medical horror?
The accused that are identified in the UP gangrape episode are as Nawab, Sanaulla, Nishant, Samarjahan, Haafiz Madarsa Hapud along with four unidentified persons.
The Uttar Pradesh police have leveled charges under section 303, 366, 376(G), 295(K), 422, 467, 468, 323, 504, 506 and 34 under Indian Penal Code.
The whole incident of rape case got a communal colour after it came to light that the victim was forced to convert her religion. The Uttar Pradesh Samajwadi Party government's carelessness is usual and shambolic over the issue. What even more surprising is the silence of BJP members over the issue in Parliament. The party won as many as 73 Lok Sabha seats in the Lok Sabha Elections 2014.
Watch the girl's plight here: