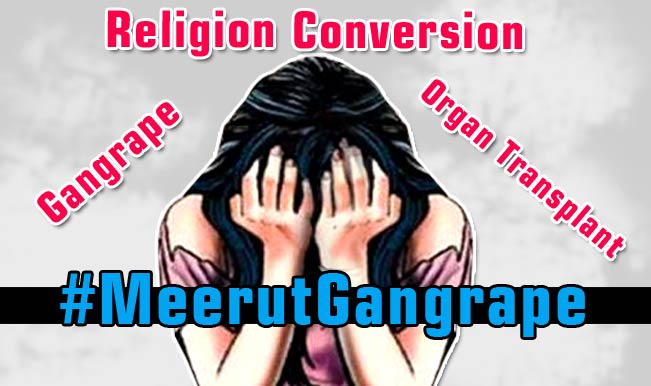 The ghastly incident of the Meerut gangrape and forced conversion gets murkier with every passing day. A fresh revelation in the incident involving a 20-year-old teacher indicates the flesh trade angle. The victim was allegedly gang-raped inside a Madarsa and was forced to convert to Islam. Medical reports also suggested one of her fallopian tubes was removed from her body to avoid pregnancy.
The Uttar Pradesh police are trying to debunk the issue stating that the victim had undergone an surgery for ectopic pregnancy. But the victim has a completely different tale to tell.
According to a report in Dainik Jagaran, the girl was presented in court on Tuesday, August 5 by the Uttar Pradesh police where she gave her statement on the incident. The girl told how she was befriended by her Muslim neighbour Nishaat three years ago and how during her final year in graduation Nishaat started talking about goodness in Islam. The victim said Nishaat also helped her get a job in a nearby Madarsa as an English and Hindi teacher.
On June 29, alleged the victim, she was abducted by Sanaulla and his wife Samarjahan with the help of village head Nawab. She was held captive at a Madarasa in Hapud where she was gangraped and later forced to convert to Islam. On July 23, the girl was taken to a hospital in Muzzafarnagar where she was operated upon for removal of a fallopian tube. After the surgical removal she was held captive in a Madarasa again in Mustafa colony where she came to know about plans of sending her abroad. She also came to know many girls were being sent abroad in similar fashion. She somehow managed to flee and reached Meerut and met her relatives.
The girl told the court that she was also forced to eat cow meat (beef) at a Muzzafarnagar Madarsa. She was lured to convert with the words "Accepting Islam during Ramzan is heavenly", she said, and was threatened that her brother would be killed if she did not convert.
Watch the girl's account here:
After the public outrage and pressure from politicians from different parties, the Uttar Pradesh police has woken up to the case from deep slumber and swung into action. As per the latest reports, the SP of Meerut (Rural) MM Baig said three of the four accused have been arrested.