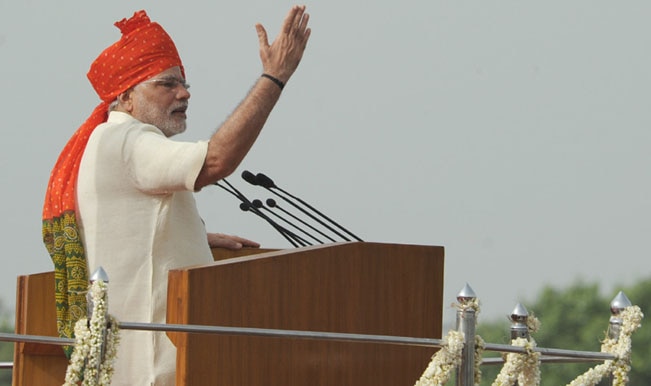 Prime Minister Narendra Modi, in his maiden Independence Day Speech during the historic celebrations on August 15 at Red Fort has once again succeeded in impressing the people of the country with his words. Narendra Modi while addressing the nation on the 68th Independence Day, spoke about each and every thing that people wanted to hear from him. But many felt that he missed few points that would have given a picture perfect and complete scenario.
From cleanliness in the country to inviting foreign investors, from rapes to girl foeticide and from poverty to communal violence, Narendra Modi mentioned all the points in his speech that lasted for more than an hour. The speech was different from that of former Prime Ministers, who used to talk about their government's schemes. As for Narendra Modi focused on the "little things" that actually connects him with people. However, he has missed two of the major issues that the country is currently facing; communal violence and ceasefire violation.
Giving a new term of "Make in India", Narendra Modi asked foreign countries to invest in India. "I tell the world, 'Make in India'," Modi said. "Sell anywhere but manufacture here. We have the skill and talent for it." Narendra Modi said. Talking about increasing number rapes in the country, he advised parents to keep an eye on their sons.  Calling for clean India, Narendra Modi said, "You would think that from the Red Fort he is talking about cleanliness and toilets but I am speaking from the heart."
Breaking the tradition, he remembered all his predecessors and previous governments for contributing to India's development. Giving a call for unity, Narendra Modi requested, "Let us walk together, think together, and make a determination to take ahead the nation together." Taking dig at ten year of UPA government, Narendra Modi declared that he would like to run the country on the basis of consensus and not on majority in Parliament and called for a 10-year moratorium on caste and communal violence.
Though, Narendra Modi talked about bringing everyone together without any discrimination of caste and religion, his party member are are not following the leader's words and are constantly spreading communal hatred through their words. BJP MLA from Goa recently raked the controversy when he said that PM Narendra Modi will develop India into a 'Hindu' nation. RSS chief's 'Hindu' remark and RSS members' inclusion in the government are also under scanner. Isn't it affect the diversity of the country where people of different religions live with peace?
According to the reports of eminent newspaper over 600 communal clashed occurred only in Uttar Pradesh after Lok Sabha results. Narendra Modi has failed to give any mechanism to stop communal violence in the country. But there has been increase in communal clashes since the BJP led NDA formed government.
Another key issue that was left out the Prime Minister's speech, was ceasefire violations continuously made by Pakistan. Though he invited other countries to India to invest and manufacture but when it comes to the relation with Pakistan, Narendra Modi did not say anything. However, he mentioned Bhutan and Nepal in his speech but avoided to speak anything on Pakistan. These were the two core issue that needs government attention and Prime Minister Narendra Modi should focus on them.