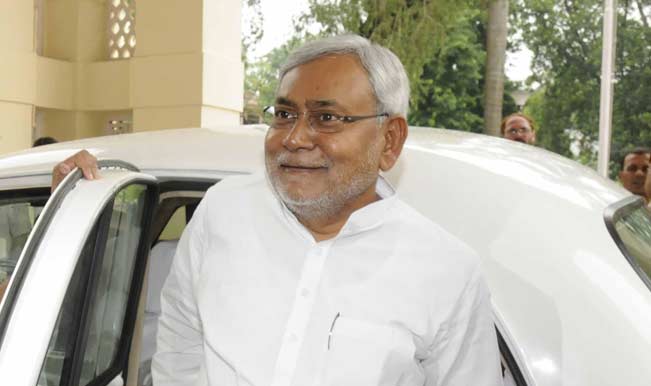 Hajipur, Aug 11: In a mega event reunion in Bihar, Nitish Kumar and Lalu Prasad Yadav both in white, grinned and clasped each other's shoulders, shook hands and sipped tea on stage in Hajipur, where they will address the first in a series of joint public rallies to be held in the next few days.
The two bitter political adversaries of Bihar for over two decades have come together to keep the BJP away from power after its spectacular win in Lok Sabha elections two months ago.
This time there are 10 assembly seats are at stake for which by-election will be held later this month. Nitish Kumar's Janata Dal (United) JD(U)  and Lalu Yadav's Rashtriya Janata Dal (RJD) will contest four seats each and the Congress will contest two. These elections are considered a big testing grounds for assembly elections due to next year.
It was quiet intriguing that in Bihar whether Kumar would indeed campaign along with Yadav after fiercly campaigning  against him in the assembly elections for the past two decades whom he ousted in Bihar in 2005. Nitish Kumar was silent as chief minister of Bihar, owning responsibility for his party's crushing defeat by BJP in the general elections to form government at the Centre in May this year.
In June last year, Kumar dumped the BJP by ending the 17-year alliance, won 31 of 40 seats along with its allies. Mr. Kumar's JD (U) could win only two seats. Having devastated in the state assembly, Lalu Yadav helped Mr. Kumar by supporting JD(U) government in Bihar.
After a gap of 20 years, RJD chief Lalu Prasad and JD(U) leader Nitish Kumar, friends-turned-foes who have become friends again, will campaign together for the Assembly by-polls in Bihar from tomorrow. Both of them will hold five public meetings at Hajipur, Mohiuddinagar, Narkatiyaganj, Chapra and Mohania as part of campaign for the bye-elections in 10 seats scheduled for August 21.
Lifting the suspense over whether Prasad and Kumar will campaign together for the candidates of RJD-JD(U)-Congress alliance, RJD state chief Ram Chandra Purvey said the two would start the joint campaign from Hajipur tomorrow.
"Prasad and Kumar will embark on the joint election campaign together from Hajipur in favour of JD(U) candidate Rajendra Rai who is presently an MLC. "They will share dais there and then go to Mohiuddinagar constituency to pitch jointly for RJD candidate Ajay Kumar," Purvey told reporters.
He said Prasad and Kumar would again campaign together on August 17 at Narkatiyaganj, Chapra and Mohania to seek votes for Congress candidate Mohammad Fakhruddin, RJD's Randhir Singh and JD(U)'s Chandra Shekhar Paswan respectively.
The joint campaign schedule was decided after talks between the alliance leaders, he said, adding Congress leaders would also be present at some meetings.
Nitish Kumar had parted ways with Lalu Prasad and his RJD in 1994 to form Samata Party with George Fernandes. It merged with Sharad Yadav-led Janata Dal (United) in 2003, became a constituent of the NDA and Kumar emerged as the main rival of Prasad.
Kumar led the party to a decisive victory in 2005 Assembly elections, wresting power from RJD. He repeated the feat on a grander scale in the 2010 elections. JD(U) snapped ties with BJP in 2013 after it nominated the then Gujarat Chief Minister Narendra Modi as its Prime Ministerial candidate for the 2014 Lok Sabha elections.
RJD and JD(U) came closer after both faced a humiliating defeat in the Lok Sabha elections. As Kumar resigned as chief minister owning moral responsibility for the defeat, RJD helped new Chief Minister Jitan Ram Manjhi sail through a confidence vote in the Assembly and later assisted it in winning the by-polls for three Rajya Sabha seats.
Citing BJP as a common enemy, RJD, JD(U) and Congress stitched up an alliance last month and declared they will jointly contest the August by-polls and the state Assembly elections next year.
Though the date of the by-polls, billed as semi-final before the Assembly elections, drew closer, neither JD(U) nor RJD came out with any clear statement regarding joint campaign by both the leaders. This made the opposition, especially BJP, to take potshots at them and their predicament as the two parties had vehemently opposed each other for two decades.
On the joint campaign of Kumar and Prasad, Purvey said, "Our alliance was welcomed by the people of Bihar, but confusion was created that Prasad and Kumar will not share dais. We have now laid the confusion to rest."
"We are going to the by-polls with team spirit and we are going with an intention to defeat fascist and communal forces prevalent in the country. Let the next Assembly elections come and we will destroy them," he said.
The August 21 Assembly by-polls will be held in Hajipur, Chapra, Mohiuddinagar, Narkatiyaganj, Mohania, Jale,Bhagalpur, Banka, Rajnagar and Parbatta. Five of these seats fell vacant after their representatives got elected to the Lok Sabha, while the rest got vacant due to resignations.
(with PTI inputs)