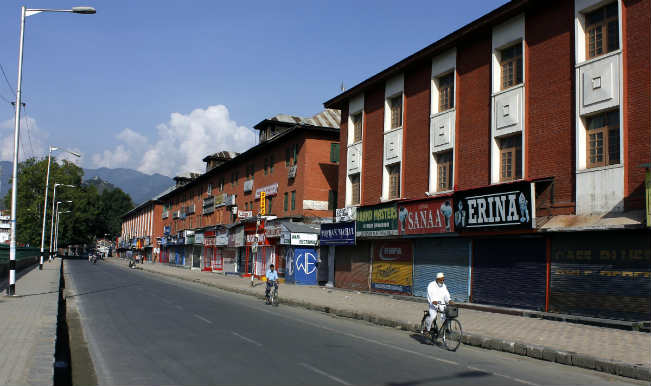 Independence Day in Jammu and Kashmir doesn't have the commonality or same fervour of belonging as any other part of India. The common visible thing in Kashmir on this day i.e. August 15 gives a sense of complete halt of activities whether it may be concerning the markets, plying of vehicles; it  over the years  have given sense of another shutdown and many pro-freedom groups call it as a 'black day'. Since the 1989 armed rebellion in this part of the world, this day brings thoughts of clampdown on the very pretext of living of almost every commoner in the valley whether, it is urban or rural areas.
The common occurrences associated with Independence Day in Kashmir are extra security measures across the valley; there is frequent and irrational frisking by security forces at different places (in fact in city areas as well) whether it includes Srinagar, Anantnag or Baramulla and other districts. Cellular phones are jammed and Internet connectivity is completely aborted from morning to noon. Usually, on August 15 people have the common feeling of the nightmare this day brings to them, because of the events and fear associated with the past.
Youth response to this day i.e. India's Independence Day in disgruntlement and dissent. The whole security process on this day and on the eve is irksome for any common people. Kashmir seems to be sandwiched between August 14 (Pakistan's Independence Day) and August 15, as on August 14 absence of vehicles and low turnout on streets starts occurring.
Youth usually in Kashmir would prefer to stay indoors or some will occupy the street and play games.  The youth's perspective to India's independence has no meaning considering the events in past and how the state of India has reacted to those issues. Youth in Kashmir largely feel deceived and isolated in essence of how things have been shaping in Kashmir over the last two decades.
The unrest or uprising of 2008 and 2010 have further created a divide and sharp antipathy towards Indian state. Even during these years the youth in a few areas especially downtown Srinagar, Anantnag, Sopore and other districts would celebrate  August 14 and lit and burst firecrackers.
Not only events of 2008 and 2010 have increased disillusionment among youth, but the way justice has been denied in case of  Shopian rape case of 2009, or Afzal Guru hanging are some of the examples which are still brewing and have not totally escaped the minds of youth.
India's August 15  of Independence for a youth in reality doesn't signify much, it is the repeat of the same things which have been happening over the years, that is a complete shutdown. Irrespective, in every district so called mainstream politicians celebrate this day with fanfare. There are students from school and youth in NCC who participate in different activities on August 15, which show an altered image altogether to realities on ground and later in the evening the state television is eloquent about the events of August 15 in Kashmir.