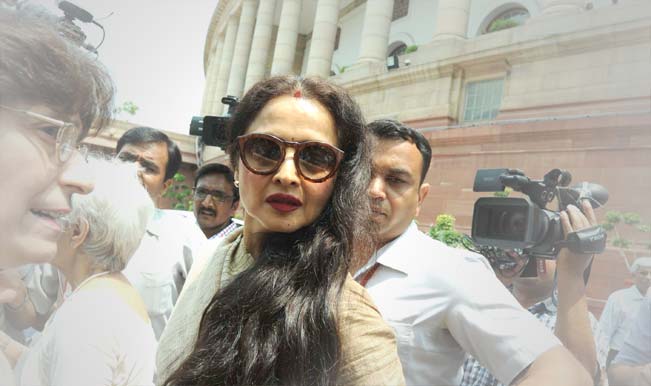 After Sachin Tendulkar was criticised in Rajya Sabha for his prolonged leave, it seems that more Rajya Sabha's celebrities did not want to come under the same category. On Tuesday, August 12, yesteryear actress and Rajya Sabha member Rekha attended the Rajya Sabha during Zero Hour. The actress was part of the proceedings for about half an hour and left the Parliament just before lunch.
Last week, Sachin Tendulkar was hugely criticised for his low attendance in the Parliament. Sachin explained the reason for his absenteeism being the ill health of his brother Ajit Tendulkar. Although he was granted leave, Sachin was blamed hugely as he has not attended a single session or participated in any debates this year.
On Tuesday, dressed in her cream coloured saree and with red lipstick, the veteran actress looked stunning like always. In the Parliament, she sat next to nominated member, Anu Aga. Outside the Parliament, she was mobbed by a battery of reporters to whom she posed with folded hands.
After being nominated on April 12 2012, she has attended the Parliament sessions just seven times in two years. As per reports in The Times of India, Question Hour has been changed to 12 and it was also decided that Rajya Sabha proceedings will be held from 11 am to 6 pm every day. The changes in the timings of Tuesday's proceedings were made on Monday, August 11 so that Members get more time to raise matters of public importance. However, statistics of this celebrity shows her scanty performance in the Parliament and relatively low involvement in the proceedings of the sessions.
The 59-year-old actress is a part of Food, Consumer Affairs and Public Distribution Committee in the Rajya Sabha, but her involvement in Private Member's Bill has only been a national average of 0.4% and state average of 0.3%. The PRS track record with which attendance of Member's of Rajya Sabha is made public tabulates Rekha's presence in the Rajya and her contributions to the Parliament as follows
The actress has just 5% attendance in the past two years:
| | |
| --- | --- |
| Session | Attendance |
| Budget 2012 | 6% (Acquired/Left Membership during the session) |
| Winter 2012 | 5% |
| Monsoon 2012 | 5% |
| Budget 2013 | 0% |
| Monsoon 2013 | 5% |
| Winter 2013 | 10% |
| Winter 2013 | 8% |
Rekha is also a part of two debates in the Rajya Sabha – Verbatim Debates and Official Debates to which she has made a contribution amounting to the national average of 16% and state average of 6.7%.
However her questioning skills seems to be on the top in which national average  is 107 %, state average being 27%.
After P Rajeeve from (CPI-M) rose the issue of long leaves taken by celebrities nominated in Rajya Sabha, we believe that the actress did not want her name to be further dragged and expanded under the list of celebrities whose attendance resembles her's.
Reference for the article has been taken from http://www.prsindia.org/mptrack/rajyasabha, http://164.100.47.4/Members_attendance/newsessionwise_attendance.aspx