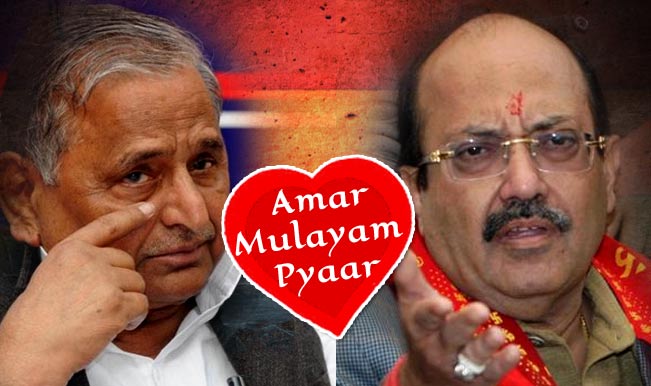 Friendships and rivalries are temporary in Indian politics. Sonia Gandhi and LK Advani may have been foes on the dais but there was always mutual respect between them. Recently, Lalu Prasad Yadav and Nitish Kumar became allies to deal with the threat of a Modi-led BJP which has Ram Vilas Paswan's Lok Janshakti Party as its ally. Nitish Kumar, who had resigned as the Chief Minister of Bihar after the Lok Sabha debacle, after its alliance with the BJP had broken in 2013.
This time it is Amar Singh and Mulayam Singh Yadav. They were seen together at an event and suddenly all news channels and websites (thee newspaper will be out tomorrow) are buzzing with their rumored love-story. While it is true that, as said before, friendship and rivalries are temporary in politics, it is too early and too little to actually make any conclusion. While it is important to note that this could be a landmark moment for UP politics as SP is a battered party (although less than Congress and BSP) in Uttar Pradesh, it is much less a sign of things to come. Yes, their coming together may be a good start for revival but them being seen together on the stage is more a blown up story and much less news. If anything it resembles a Bollywood tabloid talking about relationship rumors of two stars.
Next we know Samajwadi Party supporting LGBT rights, the chief whip being Amar Singh. The Women's Reservation Bill will still not be supported though. But then, isn't Mulayam Singh Yadav and Amar Singh being seen together on a stage NEWS?
Now, before we start imagining Yadav and Singh running towards each other in a field full of sunflowers and yours truly being beaten to pulp by SP gundas we would try and be serious. Lets hope Mulayam Singh Yadav and Amar Singh do come together because without them (we are already missing the charismatic Mayawati) Politics has more voice for development and less for caste, something which is very undesirable in Incredible India.