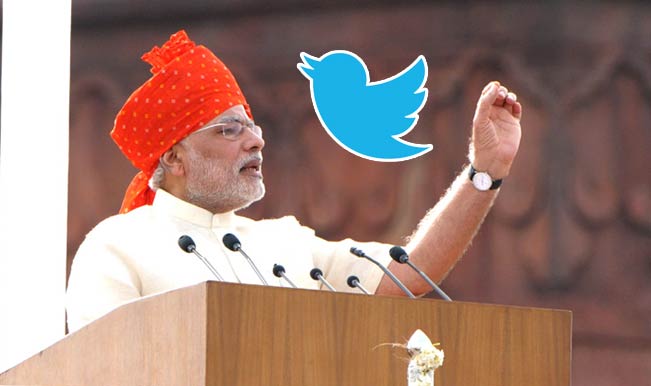 Prime Minister Narendra Modi's speech at the Red Fort seems to have impressed the nation. Twittterati are praising the Prime's Minister for his speech in which he declared everything from the Planning Commission which will be scrapped to how increasing rape cases in the country are a shame to the nation. Although he had captured the pulse of the nation with his speeches in the past, the latest one has been tagged as inspirational and motivating by the Tweeples.
Some taking a dig at the previous government and Manmohan Singh said that they were happy to see the Prime Minister of the country talking to the people and not reading out of a scripted one. Tweeples poking fun at the previous government tweeted that the Modi spoke about more things than the former Prime Minister did in the last ten years.
Most of then are expecting a progressive nation, under the new regime and Tweeples seems to have convinced about the development in the country with Modi's new tagline "Make in India".
Here are twitter reaction of the common people who are celebrating this Independence Day with Narendra Modi
#Modi said more things in his 1st Independence Day speech dan Manmohan singh said in his 10 Independence Day speeches #HappyIndependenceDay

— Sharanya Narayanan (@iamsharz) August 15, 2014
Great speech by Modi.. Full if aspirations..hope and positivity..hope all this will come true… #HappyIndependenceDay #VandeMataram

— Mrityunjoy Kumar Jha (@Mrityunjoykjha) August 15, 2014
it was a very inspiring speech by our honorable PM Shri Narendra Modi ji …. #happyIndependenceday #oneIndia #proudIndia #JaiHind

— Raj Bhargava (@baggyraj) August 15, 2014
Salute Mr. Modi.. His speech today was like roaring lion.. #Happyindependenceday..

— Anshuman Khullar (@AnshumanKhullar) August 15, 2014
#ModiSpeech it ws the best speech that any PM have given till date. No doubt that PM Modi is gonna rock the nation. #HappyIndependenceDay

— Varun More (@varun14795) August 15, 2014
#ModiSpeech it ws the best speech that any PM have given till date. No doubt that PM Modi is gonna rock the nation. #HappyIndependenceDay

A salute to PM Modi ji and his ideology. His speech ws motivational as always#ModiSpeech #HappyIndependenceDay

— Tanvi Garg (@missnotsosimple) August 15, 2014