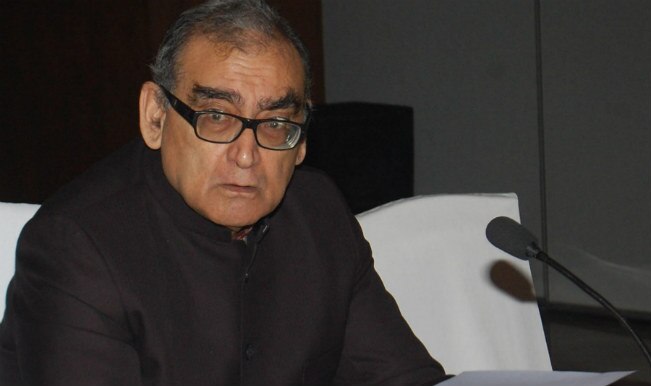 It seems Justice Markandey Katju loves to be in the news – either for his controversial remarks or for his allegations on the judiciary. The former Supreme Court of India judge and current Press Council of India Chairman again created a buzz, this time with revelations on his blog. Justice Katju has made serious allegations of corruption in the judicial system.
He added that most chief justices of India are reluctant to expose corruption in the system thinking that it will defame the judiciary. He asked through his blog, "Does corruption by judges defame the judiciary, or does exposing such corruption defame it?"
Katju further revealed that former CJIs made a compromise over the appointment of corrupt judges. He also blamed the Supreme Court Collegium for appointing unfit judges. He wrote, "I may remind him (Justice Kapadia) that the Supreme Court Collegium, headed by CJI K.G. Balakrishnan, and of which Justice Kapadia was a member, almost succeeded in bringing a totally unfit person into the Supreme Court. That Judge was a Judge of the Madras High Court when I was Chief Justice there, so I knew all about his bad reputation. Later, he was made Chief Justice of another High Court , and was being considered for elevation to the Supreme Court."
This is not the first time when Justice Katju has come up with allegations on the judiciary. He remarked that the allied parties of the UPA 2 government pressurised the appointment of corrupt judges. His remarks led to uproar in Parliament. These allegations of Justice Katju raised questions over the freedom of the judicial system and need to be probed, but it also points a finger towards Katju. A simple question can be asked, "Why was he silent until now?" If Katju was aware of any such thing and was really concerned about it, he should have raised his voice right then.
Surely his allegations are serious and demand a probe, but the question arises over the timing of Katju's revelations. If his intentions are to reform the system, why didn't he take efforts when he was a part of the system? Why is he revealing it now? Was he stopped by anyone at that time? He should come up with answers when his integrity itself is under scanner.