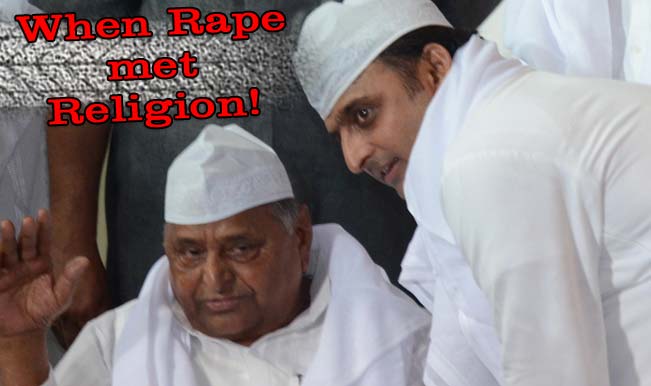 Sexual violence against women took a regional turn on Monday, August 4, when a girl was gang-raped in a Madarsa in Meerut city in Uttar Pradesh. Yes, you read it right – same Uttar Pradesh which saw the maximum number of deaths in communal clashes in the past year. Also, the sisters' rape and murder in Badaun stirred a controversy, which saw state-wide protests. And now, a girl was gangraped in a Madarasa and forced to convert.
The victim, a teacher, was reportedly returning from her school when she was kidnapped. If the rape-blow was not enough, the rapists after gangraping forced the girl to convert her religion. While such incidents very seldom come to the fore, the Akhilesh Yadav government has turned a blind eye to the rising graph of violence against women in Uttar Pradesh.
A couple of weeks back, when a Muslim caterer was force-fed by a Shiv Sena MP during the Ramadan, there was a huge furore in the Parliament and by politicians across party lines. And now when there are reports of a girl's plight, everyone seems to be turning a ignoring the situation. News anchors across TV channels criticised Shiv Sena- BJP as a whole but are tight-lipped on this sensitive gangrape case. Why?
Also, according to news channel ETV, there are scars on the stomach of the victim, which gives suspicion of organ transplant.
Read the tweet here!
मेरठ-धर्म परिवर्तन-गैंगरेप कामामला,क्षेत्र मे तनाव,पीड़िता के पेट मे ऑपरेशन का निशान भी,किडनी निकालने की आशंका,40लड़िकयो को बंधक बनाकर रखाहै

— ETV UP/UK (@ETVUPLIVE) August 4, 2014
Watch the victim's account here:
Do the people of Uttar Pradesh deserve this? Did they vote for Mulayam Singh led Samajwadi Party to let the Jungle Raaj return? Is the youngest chief minister Akhilesh Yadav so incapable that such incidents cannot be reined? The entire law and order situation in Uttar Pradesh is in disarray. Reports of policemen and politicians being involved in such incidents are nothing new. Mulayam Singh Yadav himself in one of his Moradabad rallies blabbered nonsense on the sensitive issue of rape.
Watch the video below:
If only there are tighter laws and implementation of the same is righteous and speedy, such incidents can be tamed. It is unfortunate that reports of violence against women are on the rise, but involving religion in the same is a serious matter. Add to it, the sad matter of alleged organ transplant!
Prime Minister Narendra Modi on his return from Nepal visit should take corrective measures and strict action should be taken against the persons guilty. It is for sure that people didn't vote for such 'Achche Din'. Right, Mr Modi?