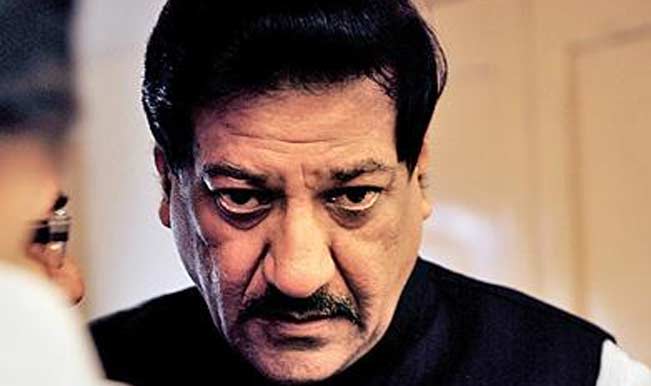 Mumbai, Aug 14: Maharashtra's ruling combine today averted a showdown over contesting the by-poll for the lone Legislative Council seat with senior partner Congress withdrawing from the fray paving the way for election of state NCP chief Sunil Tatkare unopposed. After days of tough posturing by both sides, the Congress leadership decided to pull out of the fray its nominee Mohan Joshi following a late last night meeting between Chief Minister Prithviraj Chavan and NCP chief Sharad Pawar.
Joshi withdrew his papers today, the last day of withdrawal of nominations. "I will obey the party's orders. The decision was taken at a meeting between the Chief Minister and NCP president Sharad Pawar," Joshi told reporters before withdrawing from contest. Failure to reach a last minute truce would have exposed the fault lines between the two parties, ruling the state for a decade and half, and still smarting from a humiliating defeat in Lok Sabha polls when their combined tally plunged to an all-time low of six seats.
While NCP had won four of Maharashtra's 48 Lok Sabha seats, Congress could clinch just two, while the rest went to the 'Mahayuti', a grand alliance of five parties led by BJP and Shiv Sena. Though the two parties are expected to drive a hard bargain over seat sharing for the state Assembly elections due in October when Sharad Pawar meets top Congress leaders including A K Antony in Delhi on August 19-20, the truce came as a welcome breather.
The by-poll, necessitated by the election of Shiv Sena's Vinayak Raut to the Lok Sabha, had become a serious bone of contention between Congress and NCP with the latter blaming Chief Minister Chavan for lack of communication which led to both parties fielding their nominees. NCP had staked claim to the seat saying since state Congress president Manikrao Thakre was a member of the Legislative Council the party too wanted to send Tatkare to the Upper House so he could devote more time to campaigning in the Assembly elections.
The first indication of a resolution came last evening when Chavan said talks with NCP had not concluded before Congress decided to put up its candidate. "The issue would be resolved through talks," he had said after a Cabinet meeting. Manikrao Thakare said all senior leaders were of the view that Congress should contest the by-election. "It was our seat and we had 24 votes more than the NCP," he said. Thakre referred to his yesterday's statement that the final decision would be taken by Chavan and Pawar.
"Accordingly, our candidate has been asked to withdraw," he said. Asked whether Congress had given in to NCP pressure, Thakare said, "there is no question of pressure. In a coalition, there have to be adjustments. After all, NCP had fielded their state unit chief."  With Tatkare's election, the NCP's strength in the 78-member legislative council has gone up to 29. Congress has 22 members, BJP 11, Shiv Sena six, Lok Bharti, PWP and PRP one each and Independents seven.