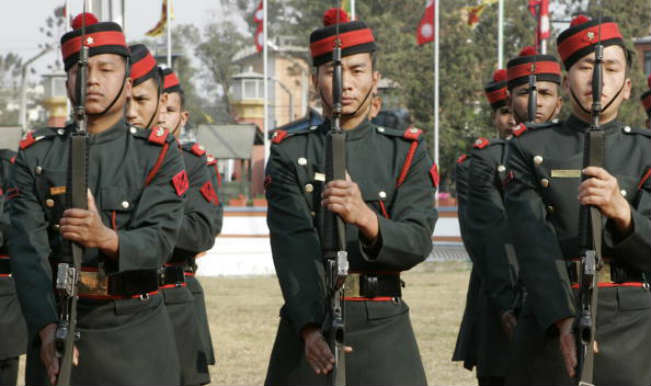 Kathmandu, Aug 4 : Prime Minister Narendra Modi was today given a Guard of Honour in Kathmandu upon his departure from Nepal. During his two-day maiden bilateral visit to Nepal, Modi met Nepal's External Affairs Minister (EAM) Mahendra Bahadur Pandey, Prime Minister Sushil Koirala, President Ram Baran Yadav, Communist Party of Nepal Chairman K.P. Oli, Unified Communist Party of Nepal (Maoist) Chairman Pushpa Kamal Dahal and also the Madhesi leaders of Nepal.
Along with this, he also met the family members of Jeet Bahadur, a Nepalese origin boy educated by him, who had accompanied him on his trip to Nepal and had also held prayers at the Pashupatinath Temple. Yesterday he even addressed Nepal's constituent assembly where he not only praised the existing bond between the two countries but also assured that India will make all the efforts required to take Nepal to new heights.
In the assembly, Modi had also announced that India will give Nepal 10,000 crore Nepali rupee concessional line of credit, for its development. Modi is the first Indian Prime Minister to undertake a bilateral visit to Nepal in 17 years and is scheduled to hold parleys with leaders of different political parties in Nepal before leaving for India.