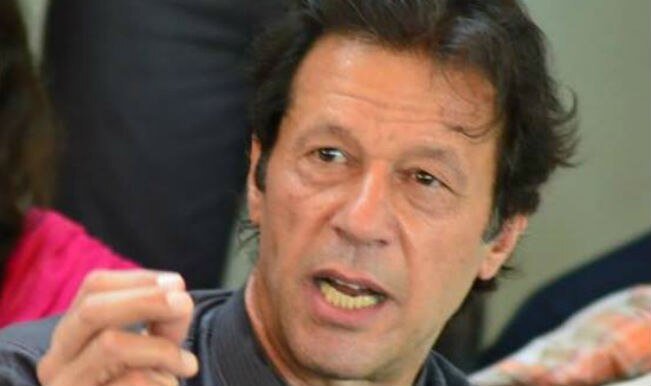 Islamabad, Aug 13 : Bracing for tomorrow's massive rallies by cricketer-turned-politician Imran Khan and a Canada-based cleric, the Nawaz Sharif government has launched backchannel efforts to avoid a confrontation even as it warned that Pakistan will not be allowed to "become Somalia, Iraq or Libya". Khan has given a call for a mammoth 'Freedom March' on Pakistan's Independence Day in Islamabad to protest against alleged rigging of last year elections which brought Sharif to power.
Canada-based Pakistani cleric Tahirul Qadri would also organise his 'Revolution March' tomorrow demanding the ouster of the government for its anti-poor policies and corruption. In a meeting yesterday to review the security situation ahead of the protests, the Ministry of Interior decided to deal protesters with an iron hand if they resort to any kind of violence. Interior Minister Chaudhry Nisar Ali Khan said, "Those people who are breaking hands of the police, martyring their own people and beheading the people cannot be left free in Islamabad city."
"If any violent crowd was allowed to protest in the capital for one time then after every few months a more violent crowd of people will threaten to come to Islamabad and take over the government and that could not be allowed at all as we will not let Pakistan become Somalia, Iraq or Libya," he was quoted as saying by Nation newspaper. Pakistan government has already handed over the security of capital Islamabad to the army for three months. According to reports, Army will guard key government installations and other sensitive spots.??
The government has also ordered the suspension of mobile phone services and wireless Internet services in several parts of Islamabad for an indefinite period. At the same time, the government has made overtures to Khan to pursue him to call off the rally tomorrow. The efforts for reconciliation are being made by the rightwing Jamaat-i-Islami (JI) which is a coalition partner of Khan in northwestern Khyber-Pakhtunkhwa province."These efforts got a boost by the speech of the Prime Minister who accepted a major demand of Khan to probe the rigging,"said a senior opposition politician.
Yesterday, Sharif extended an olive branch to his opponents by announcing to set up a commission of Supreme Court judges to probe the charges of rigging in the last year's?elections. Sharif also announced to reform the electoral laws through parliament. Khan in his immediate reaction rejected the offer as "too late" and vowed to go ahead with planned rally. But he has come under pressure from within his Pakistan Tehreek-e-Insaf party and other opposition parties to accept the offer of Sharif and call off the rally.
Javed Hashmi, a senior and popular PTI leader, has decided to stay away from the protest and instead going to Islamabad, he has gone to his hometown of Multan in southern Punjab. "Whenever there is a difficult situation, I come to my constituency to sort it out with consensus," said Hashmi on his arrival in Multan.
Sources said that Hashmi has warned PTI that the situation might go out of control, paving way for intervention of army.
Syed Khursheed Shah of Pakistan People's Party has also asked Khan to accept offer by the government. But the main hope is JI chief Sirajul Haq who has said several times that he was making serious efforts to avoid the standoff. The News International also in one of its reports said today that Khan will strike an agreement with the government by tomorrow to settle the issues.
It is believed that Khan and Qadri will give very tough time to Sharif?s government and may result in the intervention of army if the law and order situation go out of control. Defence Minister Khawaja Muhammad Asif dismissed the possibility of a coup and said relations between the civilian government and military were "cordial and fine". The prospect of unrest triggered the biggest fall in Pakistan's benchmark stock index since 2009.