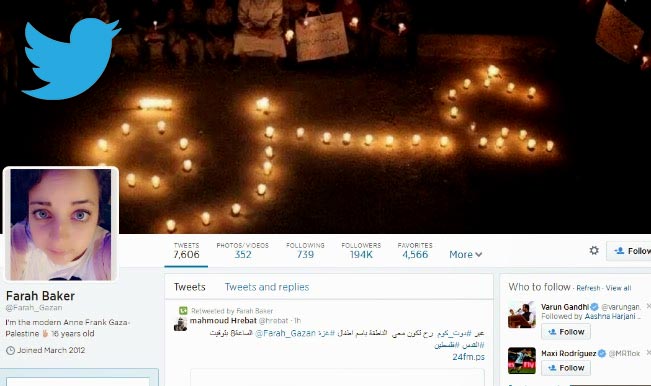 During the second World War Anne Frank's diary was a record of the events that took place in the concentration camps that the Nazis were there in. Her diary was published in many languages, in English it was titled, "Anne Frank: The diary of a young girl." The book was adapted as a play and in 1959 a movie by the same name was released. In 2014, the Israeli conflict in Gaza is putting another young girl in the spotlight, 16 year old Farah Baker.
Using the twitter handle @Farah_Gazan, Baker has been tweeting about everything that she is witnessing in Gaza. She calls herself "Guess what"
On July 22 she tweeted that a picture.
:/ #SaveGaza pic.twitter.com/WMGgjQbrhV

— Farah Baker (@Farah_Gazan) July 21, 2014
This picture was re-tweeted over 2000 times. Her followers have increased from 800 to 194,000 in a few days.
These are some of her tweets.
I woke up today without drones, f16s, ambulances, blasts sounds, so I smiled from the deep of my heart #Gaza