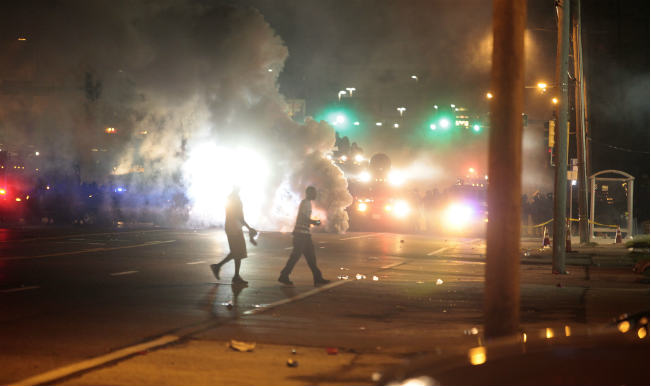 On August 9, 18-year old unarmed African-American Michael Brown was shot dead by a policeman, Darren Wilson, in disputed circumstances in Ferguson, Missouri, U.S.A. Since then there has been a lot of unrest in the city of Ferguson. A place which was till then just a working-class suburb in Missouri has now become the center of violence.
The story hasn't broken out on big scale in India yet. Even among the international stories, the Ferguson riots have got very little coverage, not more than a small 100 word article in the corner of a newspaper or a 2 minute television coverage in about 2 hours. But the story has a lot more significance in India than what the contemporary media is acknowledging.
1. It Highlights Bigotry by Government agencies
Government agencies, especially Police are supposed to uphold law and order. But what happens when they themselves break it. The autopsy report of Brown has revealed that Brown was shot six times, twice in the head. One shot in the head is enough to kill someone. One strike anywhere in the body except in the heart or head is enough to render any average individual immobile. Six shots is cold blooded murder. The fact that he was an African-American makes it hard to ignore that this act was racial.
Teleport to India and one will find numerous such incidents, especially when it comes to the so called, 'denotified' tribes who are still tortured for having been born into that tribe.
2. It Highlights Police Exessess
In Ferguson the Police has been using tear gas to disperse protesters, and one civilian was critically injured, possibly by police shots. The following video is an Al-Jazeera feed for the protest.
The protests were usually peaceful but the police have justified their shooting and throwing tear-gas shells by saying that there were attempts at breaking into shops. In other reports Police have said that Molotov cocktails were used by the protesters and force was used to avoid injury to protestors and police.
In India, protests are usually met with lathi-charge, tear gas and rubber bullets, even if they are peaceful, as shown by the protests against the Nirbhaya rape or indeed in Baba Ramdev's notorious episode.
Wilson shooting Brown has similarities in the form of encounters. A former Police Commissioner had once said, "No encounter (in India) is ever genuine. Why is it always that the criminal is killed while nothing happens to the police officer?" A look at Ishrat Jahan encounter might give some idea about it.
3. Police are not held accountable
In American law Police can be held accountable for illegal actions. They can be suspended, sued or prosecuted for wrong doing. But that has not happened in this case as shown by Governor Nixon's silence over the issue.
Unfortunately, in India it is next to impossible to hold policemen accountable, leave alone jailed for their actions. The police themselves will not file an FIR against someone from their 'family.' Unlike in the Ferguson killing where it is an anomaly, in India it is more a rule than an exception that the police is not held accountable for their actions.
4. Social Media raised awareness
Most of the news about the incidents happening during the protests have been through citizen journalism. Many journalist have been put behind bars for just reporting the incidents, as highlighted by New York Times. In those instances it was Citizen Journalism that came to aid conventional journalism. Here is one tweet.
Woke up to news reports of protestors looting McDonald's but no details of what or why. Let's be clear. #Ferguson pic.twitter.com/hQpU48btP4— zellie (@zellieimani) August 18, 2014
In India, there have been protests like India Against Corruption that were primarily launched by social media. Arvind Kejriwal's reputation was created by social media. In December last year when a reliance-owned Aston Martin crashed into an Audi it was reported only on social media and nowhere else. Citizen Journalism is giving news that conventional journalism cannot give, or at times, is  simply turning a blind eye to.