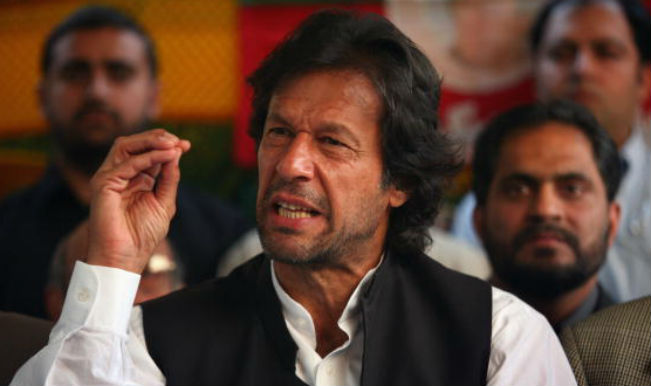 The death rumour of Imran Khan has been spreading on social media, especially Whatsapp for the past few days. Pictures of an injured man similar to the former Pakistan cricket captain and founder of Pakistani political party Tehreek-e-Insaf have gone viral. This is not the first time the death hoax of Imran Khan has created buzz in the media. Months before, there were similar pictures which claimed that Imran Khan has been shot dead. However, the rumour remained a rumour and there was no truth in it. [Also Read: Imran Khan Dead or Alive: 7 things to know about the cricketer-turned-politician]
When it comes to assassination attempts against Imran Khan, he was the target of terrorist groups while he was campaigning for his party before the Pakistan general elections in 2013. During a rally he fell from a forklift and was admitted to hospital. Later, it came out that terrorists had planned his assassination in his next rally.
Imran Khan had himself claimed that then Pakistan's home minister Rehman Malik had told him about an assassination attempt scheduled for the day after his fall from the stage at the rally.
The cricketer-turned-political leader and his party have taken a stand against US intervention in Pakistan and think that terrorism activities of the Taliban are the result of a US-led campaign against terror.
Imran Khan believes that US should stop drone attacks on Taliban if they want to stop the Taliban. His party demands that the Pakistan government should hold talks with the Taliban. The Pakistan Tehreek-e-Insaf chief has been criticised for being soft on the Taliban and for not speaking out against attacks perpetrated by militants.
As Pakistan has seen the assassination of many of its political leaders – recently that of two-time Prime Minister Benazir Bhutto, the rumour of Imran Khan's death became viral and many believed it to be true. But Imran Khan is very much alive and there is no confirmation on his death, which would've made breaking news headlines if he had.