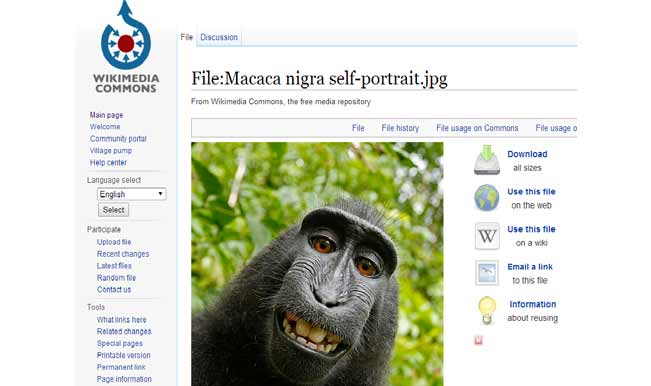 A photographer has been refused copyright to an image that was clicked back in 2011 – by a monkey who used his smartphone to click a selfie! Nature photographer David J Slater was clicking pictures in the Indonesian island of Sulawesi when one the rare species, Indonesian macaques snatched his camera and started taking pictures of both of them. The monkey started imitating the photographer, thereby clicking hundreds of images, of which many landed up as the macaques' selfies. Although many of them were blurred, some turned out to be professional selfies of the monkey.
One of the images in which macaques had displayed a smiling face went viral after which Wikimedia Commons, which owns Wikipedia used the image in their images section without giving credits to the photographer.
The furious photographer asked Wikimedia to take down those images as he owned them. However, the information giant has refused to drop the images from their list as they were clicked by the monkey and not the photographer. According to them, Slater cannot be claiming rights to photos which were not claimed by them.
Now, Slater is planning to take legal action against the U.S. Wikimedia for using his image without permission. He also told that Wikimedia's decision to include his image as a part of its stock has affected his earnings thus distressing his livelihood.
Slater who now has the right to sue the company for statutory damages up t0 $30, 000 said, "It is all based on a technicality. I own the photo, but because the monkey pressed the trigger and took the photo, they are claiming the monkey owns the copyright."
The selfie of the Indonesian Macaque can be viewed on the Wikimedia Commons site along with crores of other images and videos files. These files are free to be used by anyone.